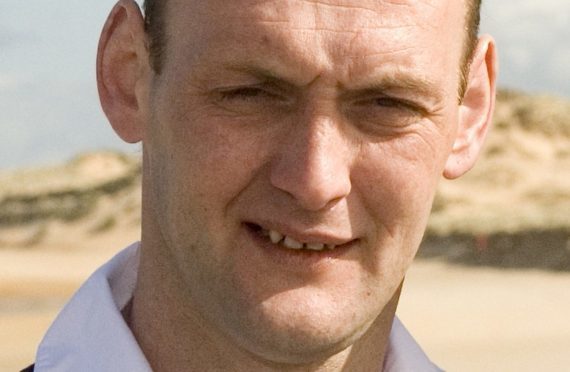 A callous thief stole a firefighter's phone – as he battled a blaze in Fraserburgh.
Crews were called to tackle the fire at Fernie Place, which left the inside of the property a charred mess.
But while Malcolm Slater was tackling the flames, an opportunistic thief swiped his phone from the fire engine outside.
The Samsung Galaxy S7 Edge smartphone is worth about £500 and contained irreplaceable images and videos from Mr Slater's family events and holidays.
Last night, the firefighter of 13 years said it was the last thing he expected to happen to someone whose job it is to help the community.
The 46-year-old said: "There's not really much you can say about it. It's just unbelievable that something like this has happened.
"It's quite shocking, really, because we have never had anything like this happen before.
"In other places the fire service can have bricks thrown at them sometimes, but we never expect anything like that here in Fraserburgh. For someone to do this is truly unbelievable.
"It's disgusting."
The incident, which happened earlier this week, has also been condemned by the chairman of the town's safety group.
Brian Topping said: "It really is beyond belief. It is unforgivable that someone has seen fit to do this while firefighters are tackling a blaze.
"Phones are not cheap and people rely on them for work. It's bad enough for someone to have their property stolen, but for someone who is putting their life on the line it is despicable.
"The individual that has done this should be utterly ashamed of themselves and should hand it in to the police or fire station as urgently as possible.
"Our firefighters are on the front lines to keep people safe."
Mr Topping has also "in the strongest possible terms" urged people who may know the thief to report them to the police.
Following the theft, a crowd funding page has been set up to provide Mr Slater with a new phone.
So far, £140 has been raised.
A family friend, who asked to remain anonymous, said: "It isn't exactly fair what has happened to him.
"I would be devastated if I lost my phone and it isn't exactly a cheap phone to replace.
"I haven't heard of anything like this happening before. It's quite unreal. There were three fire engines there and two police cars – there was loads of people going about."
Yesterday, a fire service spokesman confirmed the matter had been reported to the police, who are investigating.
"As this is an ongoing investigation, it would be inappropriate to comment further at this time," he said.
"We would urge anyone with any information to contact Police Scotland."
A police spokeswoman: "Anyone with information about this incident is asked to contact Police Scotland on 101 quoting reference 3554.
"To remain anonymous, information can also be passed to the charity Crimestoppers on 0800 555 111."
The theft is believed to have taken place between 8.45am and 10.15am on April 26.