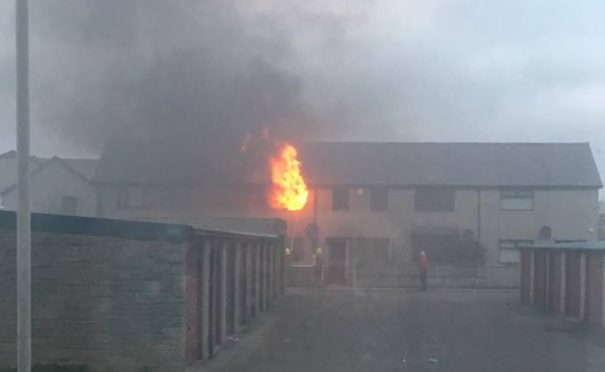 These dramatic pictures illustrate the moment a blaze tore through the top floor of a north-east home.
Emergency services were called to St Andrews Drive in Fraserburgh at around 8.45pm on Sunday after the alarm was raised.
Firefighters, using hose reel jets and breathing apparatus were able to control the flames and nobody was injured in the incident.
Video footage of the fire shows smoke pouring out of the top floor window and concerned neighbours gathering around outside. Fire crews were quickly on the scene and can be seen blasting the flames with a powerful hose jet.
The fire is not being treated as suspicious.
Last night, an eye-witness said the windows of the home had already "blown out" when she first noticed what was happening.
Abbie Morrice said: "Around 8.40pm, I heard sirens and looked outside and saw the flames coming out the window, so it must have blown out by that time.
"It must have started around 8.30pm and was mostly out by 9pm. As far as I am aware nobody was injured."