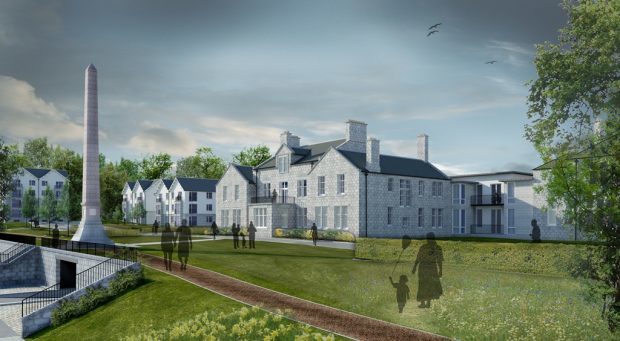 A fresh image has been unveiled showing how a housing development on the site of a former north-east hospital will look when completed.
The artist's impression shows the transformation of the derelict part of the Royal Cornhill Hospital into homes and apartments.
The site opened its doors in 1800 when it was known as the Aberdeen Lunatic Asylum.
It later became the Aberdeen Royal Mental Hospital in 1933 before finally becoming the Royal Cornhill Hospital in 1964.
The disused part of the building has twice been targeted by fireraisers.
In November 2013 and June 2015 firefighters were forced to tackle blazes at the site.
The joint application to renovate the area was made by NHS Grampian Stewart Milne Homes and Barratt Scotland and was approved by the city council in February 2015.
When plans were first launched concerns were raised that the granite from the hospital would be lost but the developers later confirmed they would incorporate the material.
Construction began later that year and the lower hospital, which was originally the Royal Lunatic Asylum, has been knocked down and the buildings which made up part of the upper hospital have been converted into 323 homes.
The properties will be a part of Barratt Homes' recently launched Westburn Gardens development
Mike Cowie, the sales and marketing director at Barratt North, said the development had a "real sense of community."
He said: "With a central location, close proximity to bus and railway stations and a beautifully crafted sense of place, Westburn Gardens brings a new dimension to city living.
"The manicured green spaces and convenient pathways for residents give it a real sense of community at the heart of the city.
Councillor Bill Cormie, who represents the Midstocket and Rosemount ward, also welcomed the news.
He said: "I'm delighted to see the development is almost complete.
"I was a supporter of it when it came to the council.
"They've kept so much of the granite and it's a beautiful development.
"It will provide much needed homes for the community and the city."