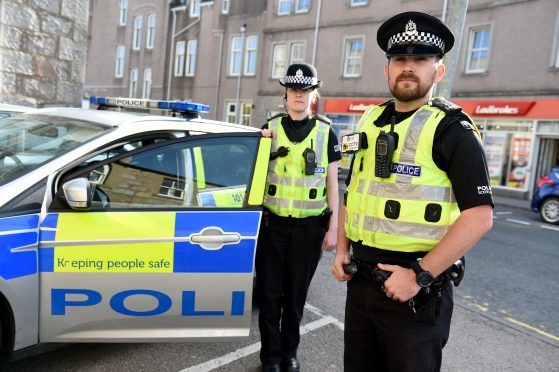 Police are stepping up patrols in a north-east town after simmering tension between gangs of youths descended into an organised fight.
At least 30 youths from Inverurie, Oldmeldrum, Stonehaven, Portlethen, and the Kincorth area of Aberdeen faced off against each other.
And over the weekend, six people were charged antisocial behaviour offences in Inverurie.
Officers were last night patrolling the streets in an attempt to deter the culprits, and reassure local residents.
The heightened activity came on the day Inverurie Bid held a public meeting to rally support for plans to help the town "thrive and develop".
Bid manager Ashley Wilson said last night: "We have been working so hard towards bringing Inverurie together. I hope the police have stamped out all this antisocial behaviour.
"This is the kind of thing that makes Bid so important, we need to work together to move forward as a community."
Yesterday, residents of the town described seeing huge groups of young people – some wearing balaclavas and bandanas – in the streets on Monday.
It is understood the youths, aged between 15 and 21, have been travelling by train and car to get to Inverurie.
On Monday, the trouble centred around the High Street, railway station and academy areas of the town.
Cheryl Rowlands saw six youths on the railway track behind her home at about 8.30pm, and tried to move them on.
She said: "I told them to get off the track and that I had phoned the police, but they said they had to go on there because 'they were going to get stabbed'. They climbed a fence and ran off.
"They looked about 16.
"I had seen a huge crowd at the station on Friday as well. I actually thought it must have been a school trip because there were that many – there must have been about 50."
A taxi driver, who did not want to be named, added: "I saw them piling off the train on Monday – there were around 50 of them and some had balaclavas on, or scarves over their faces like bandanas."
Brian Cowie, the assistant manager of Fennel restaurant, was working on Sunday when he noticed "large groups" of youngsters coming from the train station.
"There were probably about 100 people walking along the road – there were three or four police vans and quite a few police cars driving around," he said.
"There were also a group of cars parked across in the pay and display car park of what I would call 'protagonists'.
"It must have been around 6.30pm as we were quite busy and I decided to take in all the tables and chairs from outside just in case."
David MacLennan, who was working in Ladbrokes at the time, added: "They were all on their phones – I heard one of them say 'where next?' And another reply 'out at the square – that's the next place'. It's like they have had it all planned and are messaging each other the whole time."
Local councillor Judy Whyte said: "As part of the Bid steering group, we are trying to promote a safe town and attract people to come here. This is really off-putting and very intimidating.
"It's shocking to know it's organised and that this mob culture arises so quickly."
Nobody was injured, but several people were issued with fines.
Sergeant Willie Murdoch said: "This kind of antisocial behaviour will not be tolerated. A team of officers are investigating these incidents and several lines of inquiry are being pursued including examination of CCTV. Anyone identified as being involved in disorderly behaviour will be apprehended and there will be consequences for those involved.
"Not only are they putting themselves and others at risk, they are causing unnecessary fear and alarm to the local community. Inverurie is a safe area to live and there is absolutely no place for behaviour like this.
"High visibility patrols will continue to be carried out in the area and I can provide every assurance to the local community that everything is being done to prevent further anti-social behaviour."
Anyone with information should call 101 or Crimestoppers anonymously on 0800 555111.