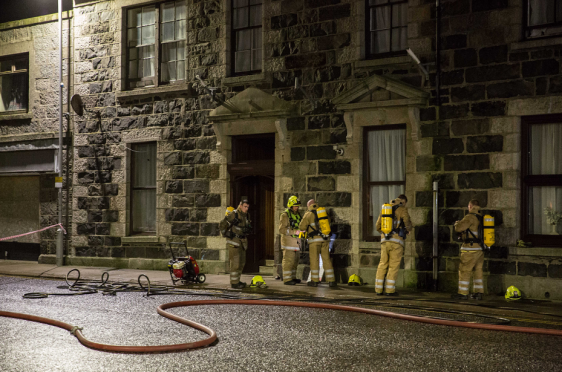 A north-east business has risen from the ashes after a blaze destroyed all of its stock in October last year.
Barclay Carpets in Fraserburgh had to close down after a fire that started in the nearby Station Hotel took hold of a stock room and ruined thousands of pounds worth of products.
But husband and wife team Brian and Lynne Barclay have fought to bring their fledgling business back from the brink.
They had been forced to abandon their workshop on Victoria Street and run operations out of a nearby car park until workmen could move in and bring their shop back up to scratch.
Last night, Mrs Barclay said she wanted to thank everyone who stuck by the couple until they could resume work.
"We had moved everything into the car park and that's where we traded," she said.
"To say it was cold was an understatement.
"The stock was affected mostly by smoke damage, but we had to get the premises professionally cleaned. The bedroom department had to have a new roof and new walls as the firemen had to break them down to prevent the fire spreading."
They are still in the process of moving all of the stock back into the building – seven months after the freak fire.
They were helped by local firms to recover by the damage, including local tradesmen who worked to restore power to the shop.
"We'd also like to thank the fire service for getting to the blaze as quickly as they did," Mrs Barclay said.
"It could have been much, much worse."
About 20 firefighters from across the north-east tackled the blaze at the Station Hotel for two hours before leaving the scene shortly before midnight.
Two units from Fraserburgh and one from Peterhead were called to the hotel at 9pm on October 24.
Police, meanwhile, kept crowds of curious spectators away from the scene, and explained that the fire had been contained to the rear of the property.