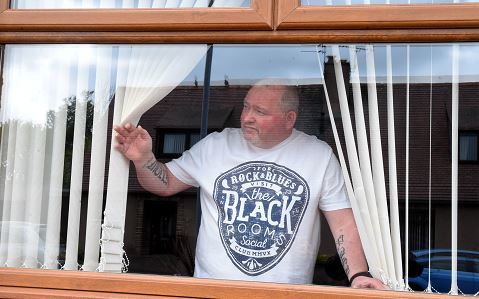 A father has claimed he feels like a prisoner in his own home after being tormented by a group of youths for months.
Malcolm Galbraith accused the teens, believed to be from Dyce and Newmachar, of "destroying" his life.
He claimed the trouble started last year when five youths shouted at his children, and he chased them away.
But he says they came back – this time in a 20-strong group – and tried to provoke him, and have continued hurling abuse at him since.
And two weeks ago, a film emerged online of a group of Dyce Academy pupils crowding around Mr Galbraith after he left the neighbouring Asda store on Riverside Drive.
In the footage – which has since been deleted – a boy was filmed kicking a football at Mr Galbraith as he was walked away, to the background sounds of laughter and jeering.
Police yesterday confirmed a 14-year-old had been charged in connection with the incident.
Mr Galbraith last night admitted the latest incident had proved "too much" for him, and he stopped to give the culprits a "piece of his mind".
"One of the same guys from last year was there – just trying to wind me up again," he said.
"I said 'you were there last year in my back garden' and he said 'yeah I remember that' – then just laughed in my face."
Mr Galbraith, who lives in Dyce with his two children and wife Carole-Ann, who also has three children from a previous relationship, added: "I can't go anywhere now without seeing them and getting abuse hurled at me.
"I feel like a prisoner in my own home – it's killing me."
Scott Moir, manager of the Axis Centre in Newmachar, said he was also aware of the problem with groups of youths.
He recently banned a group after they verbally abused a female member of his staff, and said: "We let them come in and use the sports hall a week ago when the youth club wasn't on – we said they could play football in there.
"But they started messing about and were giving her abuse and then ran out of the fire exit, I've banned them all indefinitely."
And a member of the group has also been banned from the Co-op in Newmachar, while others are "on a warning" after manager Christopher Middleton decided to take a tough stance.
In reference to claims the youths are from Dyce Academy, an Aberdeen City Council spokeswoman said: "Police have been informed and we are working in cooperation to deal with antisocial behaviour, the safety of Aberdeen citizens is of the upmost importance to us. We would remind the public, including all pupils of city schools, that antisocial behaviour will not be tolerated."
Sergeant Neil McHattie said: "We can confirm that a 14-year-old boy has been charged in relation to an alleged assault on an elderly man outside Asda at Riverview Drive, Dyce, on Wednesday, April 26.
"The charge comes after officers made inquiries into a video which was posted to YouTube and later removed.
"The boy will be reported to the youth justice management unit."
An Aberdeen City Council spokeswoman said: "Police have been informed and we are working in cooperation to deal with antisocial behaviour, the safety of Aberdeen citizens is of the upmost importance to us. We would remind the public, including all pupils of city schools, that antisocial behaviour will not be tolerated."