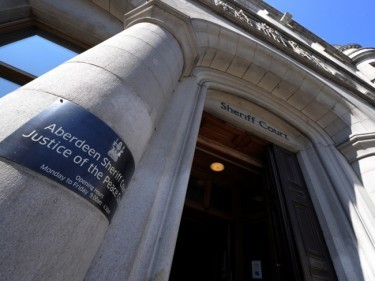 A deaf and dumb pensioner attacked support staff at a sensory centre when he was searching for an old friend after his daughter's death.
David Bews, 77, lost his temper with staff at North East Sensory Services in John Street as he sought the woman on October 27 last year.
He shouted and swore at Adam Hillhouse, seized him by the neck and punched and scratched him in the head. He also grabbed a woman by the body in the fracas.
Defence agent Gregor Kelly told Aberdeen Sheriff Court: "Mr Bews is profoundly deaf and dumb. He is also showing early stages of Alzheimers and has felt isolated most of his life.
"He had previously attended at NESS but was banned. He wasn't welcome because of a minor disagreement.
"He lost his wife 10 years ago and has been alone since then. Sadly, in the last year, he lost his daughter aged 51 to cancer.
"He thought a deaf and dumb lady who he knew from school would be at NESS on the date in question. He thought enough time had elapsed that he would be welcome now.
"He went, but the lady wasn't there and he was upset. He became very frustrated when he couldn't get through to staff. "
Bews, of Cummings Park Drive, pleaded guilty to behaving in a threatening and abusive manner likely to cause fear or alarm.
Mr Kelly added: "I would ask the court to consider he is a 77-year-old man, who has been dealt a very difficult hand in life and has coped admirably thus far."
Sheriff Marion McDonald told Bews: "You now understand it is unacceptable to behave in this way towards people in their place of work."
She fined him £135.