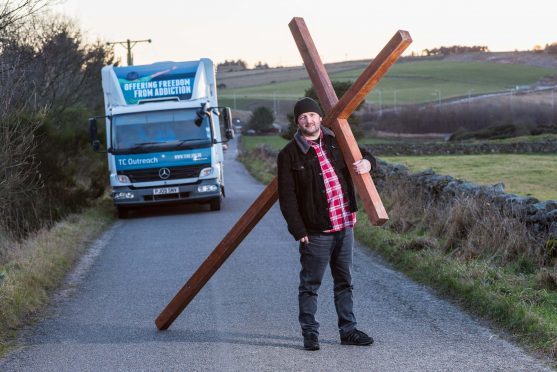 A man who has walked across Scotland with his own cross to bear will enter the final leg of his journey this weekend.
Fraserburgh man, Gordon Cruden has been raising money throughout the walk since Easter Sunday in an effort to help the addiction recover charity Teen Challenge purchase a permanent base for women near Mintlaw.
The Buy Benaiah campaign has raised more than £420,000 since it was launched last year.
And Mr Cruden has been carrying the cross, gathering volunteers who have also walked with the 45lb structure, for more than 500 miles.
He aims to complete the 600-mile route by Monday night.
Mr Cruden said: "It's clear that our work to put hope in the reach of addicts, and help them out of the mess and mayhem of addiction, is as essential as ever.
"The initiative will raise money needed to buy our women's addiction recovery home, Benaiah, as we look to do all we can to stop individuals from becoming another heartbreaking statistic.
"We'd encourage any of our supporters to join us as we walk through towns and cities across Scotland, to raise not only funds but also awareness of the drugs issue and, ultimately, the answer to life-controlling addictions."
The group's current facility – which allows mothers to continue living with their children while they complete a faith-based recovery programme – is currently rented.
Its purchase would mean the centre could continue to provide females with residential support on a permanent basis.
To donate to the Buy Benaiah campaign, visit www.justgiving.com/fundraising/peoplescrosswalkchallenge