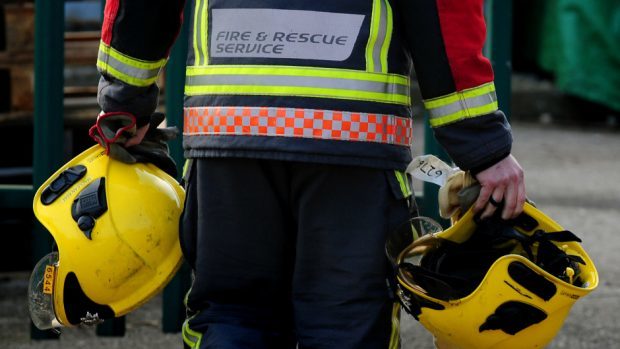 An Aberdeenshire woman watched helplessly last night as her new roof was destroyed in a fire.
The blaze broke out at a property on Old Coast Road in Portlethen at about 6.30pm, after an oil canister caught light.
Homeowner Rosie Clegg tried to douse the flames, but the heat grew so strong she had to stand back and wait for the fire crews to arrive.
The flames could be seen from 10 miles away – with the firefighters able to spot it as they raced to the scene.
Last night, Ms Clegg said the roof had recently been renovated as she was trying to make the most of the coastal views over the summer.
The work to rebuild the roof from a flat to a pointed structure began in March, with new windows also installed.
The naval architect said: "I was in the garden. The brazier must have given off some sparks and set fire to it. I called the fire brigade and started up my hose to try and slow it down. But the oil tanker caught fire and it just got too hot. I had to get away from it.
"The fire brigade were really quick. One fire engine turned up and as soon as they saw the flames they sent for another. The second crew said they could see the smoke from the station in North Anderson Drive.
"It's frustrating, it was nearly finished. It was just being changed from a flat roof because it used to leak. Work started in March. Hopefully the insurance will cover it.
"The main thing is that no-one was hurt and my neighbours were all OK. I think the guttering was damaged at one of the houses. They have all been really lovely and checking that I'm all right."
A fire service spokeswoman said: "We received a call about a fire in a house at around 6.30pm on Old Coast Road. Two appliances were sent. Nobody was in the house and no-one was injured. Some of the roof had to be cut away. We left at around 7.21pm."