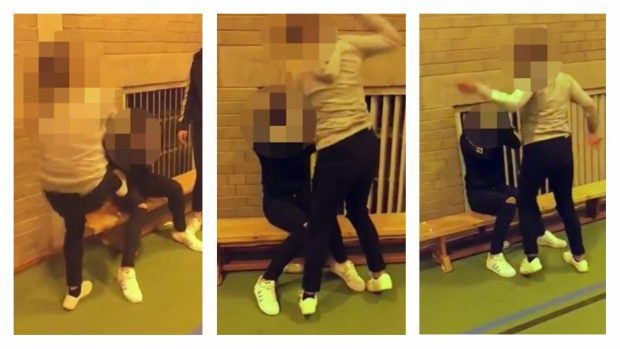 This is the shocking sequence of images which show the moment a teenage girl is viciously attacked within a north-east school.
The Fraserburgh Academy pupil was beaten around the head and face by another child while other teens stood by and filmed the prolonged incident on their mobile phones.
The video, which was captured on Tuesday, has been shared hundreds of times online.
A 12-year-old has since been charged by the police in relation to the incident.
In the footage the attacker, who is believed to be a primary school pupil in the town, can be seen grabbing hold of her victim's hair while screaming at her to "get up" from a bench.
After repeated blows the young girl being assaulted is shown to be visibly upset and can be seen shaking and crying while she tries to protect her face.
Throughout the incident, which lasts for more than two minutes, no one steps in to help child who does not appear to fight back.
In the clip the girl who launches the attack can also be heard screaming and swearing while her friends laugh.
As one slap is delivered directly onto the youngster's face a girl from behind the camera can be heard to say "nice".
The attack continues while other girls laugh in the background before someone mentions the possibility of teachers being nearby.
A voice asks: "Is that teachers? Keep a look out."
The attacker is heard mentioning a text message which she claims was sent from the pupil she is now standing over.
And when the girl tries to deny a message was sent she is slapped again and told to "shut up".
The video then ends as abruptly as it started.
In all, the girl is punched or slapped about 43 times and kicked twice.
The footage has since been condemned by those who have watched it.
And online, viewers have called on the school to take action.
One parent described the clip, which has been shared more than 600 times, as "disgusting".
Last night, Mary Melville, the vice-chairwoman of Fraserburgh Community Council, added: "What gets me right away is that someone could calmly stand there and record it – as if giving it their approval.
"Surely anyone watching that would want to intervene.
"I would hope that the council takes a hard line on this because if this kind of thing is allowed to start happening we don't know where it's going to end."
A spokeswoman for Aberdeenshire Council said it could not comment on the incident at the school.
"We understand it is part of a live police investigation," she added.
A spokeswoman for the police confirmed that a 12-year-old has been charged with carrying out an assault in the Fraserburgh area.
She said: "She will be reported to the Youth Justice Management Unit.
"Police Scotland has been and will continue to provide support to partners where appropriate."
The video comes one year after a clip of two boys fighting in Fraserburgh Academy's gym changing room.
In that footage, one of the boys is encouraged to "stamp on his head" by another youth.
Days earlier, a young girl in the town was filmed kicking and punching two boys in Charlotte Street while her friends encouraged her.