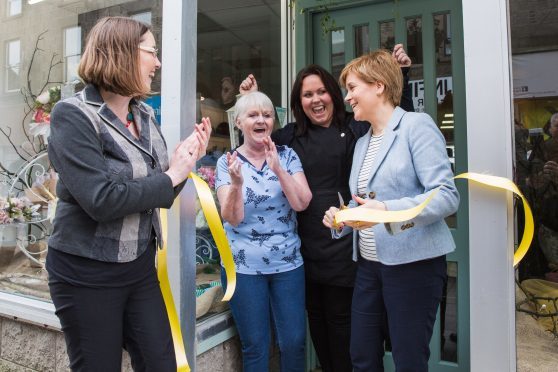 A north-east flower shop was opened twice yesterday after a VIP dropped in for a surprise visit.
First Minister Nicola Sturgeon was in Fraserburgh to re-launch local candidate Eilidh Whiteford's campaign in the town.
And while at Mrs Whiteford's campaign office on High Street she decided to pay a visit to local flower shop – Rainbow Rose Boutique – across the road after a campaigner handed her a bouquet outside.
Unknown to Ms Sturgeon, however, the boutique had only opened for the first time just hours beforehand.
Owner Lindsay Palmer said she and her mum, Kathleen Schuitema, could not believe her luck.
"We just opened today," she said.
"I can't believe it. She was so nice and my mum is overwhelmed by it."
Mrs Schuitema yesterday described herself as a supporter of Ms Sturgeon.
She had asked the first minister to do the honour for her daughter's shop as she made her way inside.
Speaking afterwards, Mrs Schuitema said: "The shop is actually named after my sister who died from breast cancer when she was 46.
"It's a good job I'm wearing waterproof mascara today."
Mrs Whiteford said: "It's always good to see new businesses on our high street – especially something like a florist. There's always work for florists in a town like Fraserburgh.
"It's great to see a local business setting up as well, because too often our high streets are struggling.
"I think it's also a testament to the small business bonus, which makes it that bit easier for people to have start-ups in our streets. The shop here looks great and I wish them all the best.
"We saw the flowers that they made up and they are just beautiful. Anyone would be lucky to have them."
The Small Business Bonus is a Scottish Government scheme which offers rate relief of up to 100% to properties being used for small businesses.