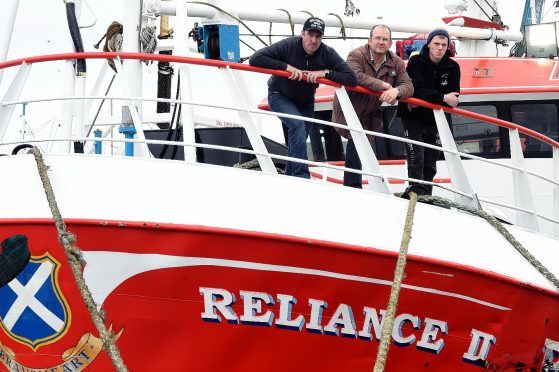 Council chiefs have been warned that scrapping night watchmen at Macduff harbour could sound the death knell for the port's future.
The proposal has sparked a ferocious backlash from local skippers and residents who fear fishermen's lives would be put at risk and the town's economy hobbled.
The row came to a head yesterday when Aberdeenshire's infrastructure committee met council chiefs and campaigners to debate the controversial policy.
Local man John Clark, skipper of Reliance II and the organiser of a petition against the move which attracted more than 1,000 names, challenged the council to overturn its decision.
He said: "I urge you to put the safety of harbour users first and the reverse the decision to axe the night watchmen.
"Macduff harbour is like our second home – we've taken boats out for 25 years. Although we fish at sea, Macduff is our place of work.
"Remove the night watchmen and we can't do that. Our risk assessments won't allow us to do it."
Mr Clark warned that fishing industry bodies could force the port to close if safety improvements were not made.
He added that since fish landing regulations were relaxed in November, more than £840,000 of fish had been landed in Macduff netting the council more than £20,000 in dues.
Councillor Ross Cassie responded: "The council officers now need to listen to the democratic mandate of elected councillors who have made their views clear.
"The ramifications of removing them [night watchmewould also have a detrimental economic impact on progress to regenerate Macduff, with the harbour at the heart of those plans."
The final decision on whether to reverse the decision to axe the watchmen will be made by council chiefs early next week.
Councillor Mark Findlater, a member of the harbour board, added: "This flies in the face of everything we're trying to do in Macduff."
Following the meeting SNP candidate for Banff and Buchan Eilidh Whiteford said: "Even in daylight with perfect weather conditions, the entrance to Macduff Harbour is challenging for vessels, and the harbour entrance can also be deceiving for skippers less familiar with the port, due to the remnants of the old harbour wall."
Her Conservative opponent David Duguid said: "This was an ill-conceived proposal from the start, which would have had huge safety implications for fishermen docking in the harbour."
Also contesting the Banff and Buchan are Labour's Caitlin Stott and Liberal Democrat Galen Milne.