A grandmother was left in tears of despair after flood waters forced her and her "terrified" family from their Portsoy home – for the second time.
Ada Gerrie was left with no option but to grab what little personal belongings she could carry and flee through a window when overnight rainfall left her living room under three feet of water.
And last night the 52-year-old, who looks after her granddaughters aged 12 and six full time, said the family was left "devastated" by the experience.
It is the second time they have had to abandon their home because of flooding.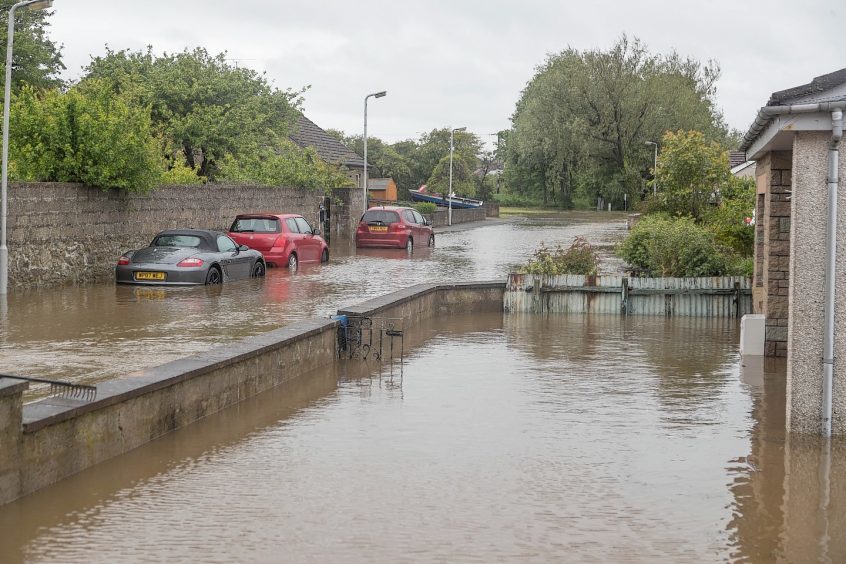 Her property on Soy Avenue was left underwater seven years ago when similar weather hit the region.
Yesterday, she said the community was unprepared for what hit it.
Some six families had to be evacuated while the fire service worked to relieve a storm drain.
A local care home also had to have water pumped away from its doors to avoid having to relocate residents.
Miss Gerrie said: "The doorbell rang at about 6.30am this morning and there was a man standing in the water asking if I had flood gates.
"He put them on for me as best he could, but then we were left.
"The fire service then took my two granddaughters when the water started getting too high."
Miss Gerrie said she stayed in the home for as long as she could with her pet dog before eventually having to climb out a downstairs window and flee at about 10am.
"We're all at my sister's house now," she said.
"But everything at mine is floating. I'm just devastated.
"The kids are terrified by it all.
"When I moved in about seven years ago there was a flood, that's why we got the gates to stop the water coming in. We thought it would be fixed, but everything we have is gone."
Miss Gerrie does not know when she will be able to return to her own home.
"The house will need to get dried out and everything is ruined – completely ruined," she added.
"No one has been in touch to say what is happening with it.
"I've cried so much that I can't cry anymore about it."
Last night, a spokeswoman for the fire service said: "We were made aware of properties being affected by flooding on Soy Avenue in Portsoy this morning at 8.30am.
"At least six properties and one care home have been affected. People have been evacuated from the properties.
"There is at least three feet of water on the road."
Durnhythe Care Home in Portsoy, which did not have to be evacuated, is operated by the local authority.
It has room for up to 33 elderly residents.
A spokesman for Aberdeenshire Council said: "The fire service used pumps to clear water away.
"We are aware of the flooding and are keeping an eye on it in case we do need to move in and start moving residents."
She added: "Overnight, our incident teams were mobilised to deal with the potential for flooding across the north of Aberdeenshire more widely.
"We were in regular contact with partner agencies throughout the night and into today.
"Our team provided sandbags in some areas on request. We continue to monitor the situation and remain on standby to assist."