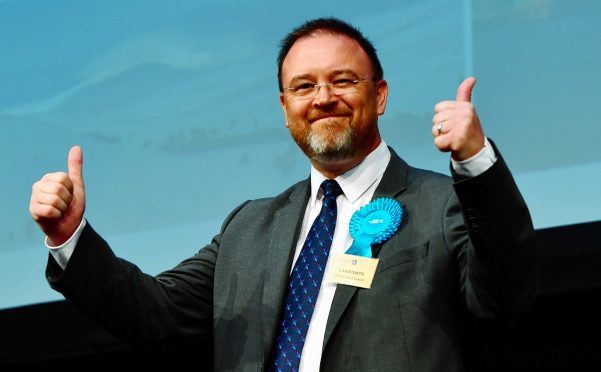 North-east fishermen will have their voices heard in parliament loud and clear, the region's newest MP has pledged.
Conservative David Duguid contested the Banff and Buchan constituency on a platform of securing the best Brexit deal possible for an industry which has long been disillusioned with Europe.
Mr Duguid, who was a pupil at Banff Academy growing up alongside incumbend MP Eilidh Whiteford, repeatedly condemned his opponent for the SNP's pro-EU stance.
Scottish Tory leader Ruth Davidson made visits to Peterhead and Fraserburgh in a bid to woo trawlermen who have traditionally voted SNP in the nationalist heartland.
During the count the unionist persistence bore out and Mr Duguid was significantly ahead in Fraserburgh – one of Scotland's most deprived towns.
He said: "The SNP simply found themselves on the wrong side of the argument.
"I can offer my assurance to the fishermen that I will be a strong voice for Banff and Buchan, and for the farmers as well.
"But it would be wrong to say that this result was purely about fishing.
"There has been a growing frustration for some time about the SNP's record in government – on education, health and the economy.
"People also have seen that Banff and Buchan has not benefited greatly from decades of rule by the SNP.
"The threat of a second independence referendum was the last thing that people wanted.
"The fact is we got a field of blue from Moray down to Angus. We campaigned on sending a strong message to Nicola Sturgeon – no to a second independence referendum."
Mr Duguid won 19,976 votes, beating Ms Whiteford by 3,693 votes. She had previously held one of the safest majorities in Scotland in a seat she inherited from another election casualty, Alex Salmond.
Ms Whiteford said she is proud of what she has achieved over the past seven years as MP for Banff and Buchan.
She was the only opposition MP to pass legislation during the last parliament when the chamber overwhelming backed her private member's bill to ratify the Istanbul Convention on violence against women.
Last night she said: "It was an incredibly long shot thing to do but I'm really proud of the way I was able to do that, the way my staff were able to do that and the way we were able to work with people across the parties to create consensus and make compromise.
"Perhaps going into a non-majority parliament situation those are skills people will realise they need."