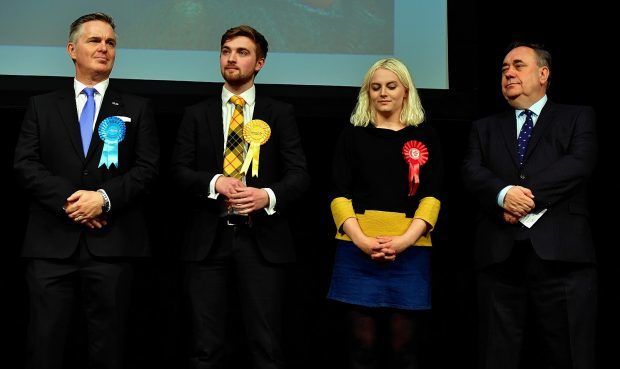 The man who toppled the "Gordon giant" today laid responsibility for the SNP's general election slump at Alex Salmond's door – blaming him for Nicola Sturgeon's rush to a second independence referendum.
Conservative Colin Clark also insisted the former first minister was responsible for his own downfall by refusing to accept the appetite for another poll was waning.
And he urged him to "hang up his boots, get a lawnmower and cut the grass".
The Aberdeenshire councillor's victory was the culmination of a determined pursuit of elected office.
He stood unsuccessfully in 2015 and again last year in the Aberdeenshire East Holyrood seat.
The 48-year-old, who lives with his family in Oldmeldrum, then triumphed in the Inverurie by-election last November and once more in May's council elections.
He will, however, be standing down having made it to the Commons.
The new Tory MP, who grew up near Turriff, was crowned after winning 21,861 votes, a 40.7% share.
Mr Salmond, who won his previous nine parliamentary elections during a frontline political career which stretched more than three decades, came second with 19,254 votes, giving the Tory victor a majority of 2,607.
In an interview with the Press and Journal, Mr Clark said: "When I spoke to Ruth Davidson yesterday, I introduced myself as the Gordon giant-slayer. It was definitely David and Goliath. Alex thought he was too big to fall."
The businessman and farmer said the 'no to a second independence referendum' message had "finally got through", in Gordon, the north-east and across Scotland.
But he said Mr Salmond had been "in complete denial" of this throughout the campaign.
Urging the ex-SNP leader to retire, he added: "He has been a public servant for 30 years. I take my hat off to the man.
"But maybe it's time he hangs up his boots, gets a lawnmower and cuts the grass."
Mr Clark said he saw the general election as the "chance of a lifetime", describing dethroning Mr Salmond as "my political ambition for the last two years".
While pleased on a personal level, he said more importantly, the "sea change" Scottish result would stop a second independence referendum "in its tracks".
He added: "The message cannot be clearer. He didn't lose slightly, it was substantial.
"A big part of our vote must have been people coming over from the SNP who are fed up with the independence referendum constitutional policy.
"The real intrigue is who pushed Nicola Sturgeon into calling indyref2? Who was the chief agitator?
"I think we know who it was and he's no longer a parliamentarian.
"Nicola Sturgeon – now that Salmond is out of the picture whether temporarily or not – is starting to back off. I think that's very, very telling."
He believes she understands the damage pursuing another poll has caused.
Yesterday Ms Sturgeon appeared to adopt a more cautious approach, saying she would "reflect carefully" on the losses and accepting the drive was one factor in the result.
Paying tribute to Mr Salmond yesterday, Ms Sturgeon described him as "without a shadow of a doubt the giant of modern Scottish politics".
In his concession speech, Mr Salmond, drew on an old Jacobite song, concluding: "In the midst of your glee, you have not seen the last of my bonnet and me."