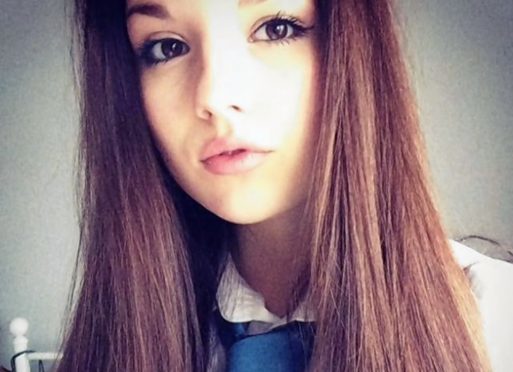 A grief-stricken mother has revealed she phoned her daughter just hours before she took her own life – but hung up before they could speak.
Law student Emily Drouet was found dead in her halls of residence last March, after suffering a campaign of abuse from her boyfriend.
Angus Milligan will be sentenced next month after admitting sending the 18-year-old offensive and menacing messages, and physically assaulting her in the days before her death.
Boyfriend of Aberdeen student found dead in halls 'showed no remorse' for campaign of abuse says parents
Last night, Miss Drouet's distraught parents Fiona and Germain revealed for the first time that Milligan had visited the Aberdeen University student just 25 minutes before she killed herself.
And in the heartbreaking interview, Mrs Drouet – who wants Milligan to be jailed – said she had even phoned her daughter in the hours before, but decided to "give her peace" to enjoy St Patrick's Day.
Mrs Drouet said: "I went to pick up my phone – I did pick up my phone – at 9.17pm because I thought, 'It's St Patrick's night, what's she got that's green, what's she going to wear?' And I went to phone her.
"But I actually put it down and said out loud: 'Give her peace, Fiona'.
"Forever I'll think, 'if I just kept the phone in my hand, she might still be here'.
"I should have let the phone ring."
She added that friends reported Milligan had gone round to see Miss Drouet that night.
Friends tried to calm her down afterwards, and she went back to her room on her own.
Mrs Drouet added: "Her friend arrived 15 minutes later and there was no answer, so it was very quick.
"It was about 25 minutes after Milligan had left that we lost Emily."
Last month, Milligan, of Edinburgh, admitted abusing the law student by shouting at her, grabbing her by the neck, choking her, slapping her and sending her offensive and menacing messages.
He also called her the "worst person in Aberdeen" and a "freak". He is due to be sentenced on July, 5.
Mrs Drouet described her daughter as her "best friend", and said she would have headed straight to Aberdeen if she had any idea of what had ben going on.
"When I look back I can see she wasn't herself," she added.
"I just thought she was tired.
"I couldn't have thought, if I'd thought for one minute she had been through what she had been through, I'd have been in Aberdeen.
"I would've brought her home, sorted it out for her, and she knows I would have.
"We feel Emily was so scared because she thought it was her fault."
Aberdeen University vice-principal Margaret Ross revealed the law student had raised concerns but her confidentiality had to be respected.
She said: "She was in touch with student support through the resident's assistance in the hall where she lived and she was in touch with the law school, producing information to explain her absences from classes.
"A student is normally an adult when they're here at university so we respect their confidentiality.
"We wouldn't contact their parents unless the student gave us consent."