A murder inquiry has been launched after a man was stabbed at a house in Fraserburgh.
Police were called to a large-scale disturbance in the town's Fernie Place early yesterday, with neighbours hearing shouting and banging.
Gary Clampett was found seriously injured inside a property, but could not be saved.
Murder investigation launched after body found in Fraserburgh property
It is understood he was stabbed during an argument in a house on the street.
The 39-year-old is well-known in the Fraserburgh area, and was married to the daughter of Gordon Graham – who was allegedly murdered in a flat fire in the town nearly 20 years ago.
Yesterday, police sealed off the cul-de-sac and told neighbours to stay indoors as they focused their investigation on two properties.
Forensic officers could be seen going in and out of two houses scouring for clues, photographing shards of glass and examining a grey Suzuki Carisma within the cordon.
Detective Inspector Gary Winter last night confirmed they were treating Mr Clampett's death as murder, and said inquiries were at an early stage.
"An investigation into the circumstances surrounding the murder of Gary Clampett is under way," he said. "Our thoughts are with Gary's family and friends.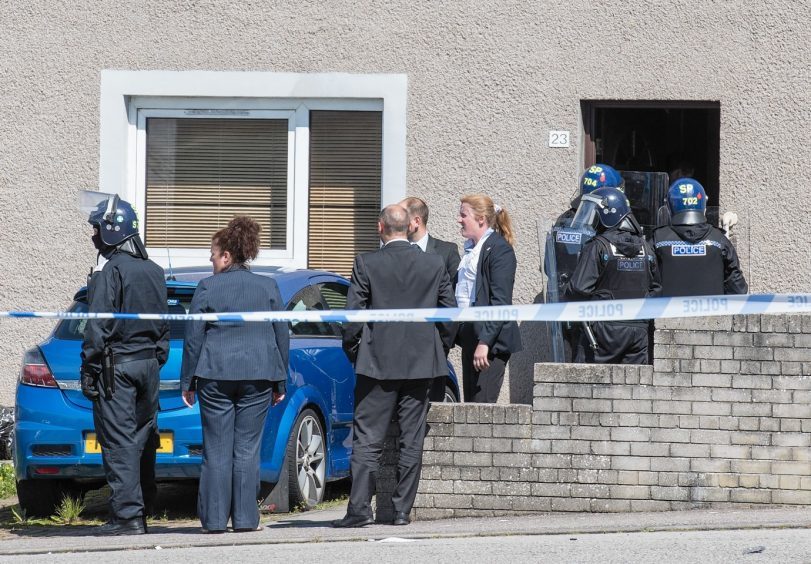 "Police will remain in the area while our inquiries are ongoing. We are following a number of lines of inquiry.
"I would appeal to anyone with any information in relation to this incident or private CCTV in the area of Fernie Place, Fraserburgh, to please come forward."
While the forensic team examined the scene, police officers in body armour stormed a nearby home.
Residents were meanwhile told to remain inside their homes.
One woman, who lives in Fernie Place, said she had been told by officers she would not be able to leave for work.
Explaining that she had slept through the apparent incident, she added: "A police officer told me that I couldn't go.
"I called to my boss and explained situation and the police officer also talked with him because it didn't sound like something real.
"There's still police outside. We aren't allowed to drive in and out from our street."
Residents of Hamilton Road, adjacent to the crime scene, said they were woken up by the sound of people shouting and a series of loud bangs.
A mum who lives overlooking the street said: "I just remember being woken up through the night by people shouting.
"I didn't want to look in case my kids woke up.
"The next thing I knew the police were arriving."
Her neighbour added: "I had just come home from a nightclub and went straight to bed.
"There was a lot of shouting at about 4am and then bangs."
Another said he had also been woken up at about the same time by the sounds of people shouting.
"There was shouting, then a scream," he said.
Former handyman Mr Clampett was married to Sharon Graham, whose family have lived in the north-east since the mid 1990s.
They were first hit by tragedy when her father, Gordon, died in a flat fire on High Street on May 3, 1998. Her oldest brother James later was killed in a car crash near Rosehearty.
The flat fire was initially ruled to have been an accident, but the investigation was reopened in 2009.
Barry Henderson, 42, has now appeared in court charged with the murder of Mr Graham and the attempted murder of his wife, Anne. He denies the charge and is due to go on trial next month.