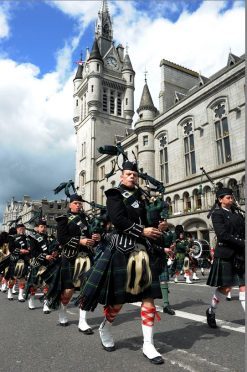 The Granite City is set to honour its military heroes with a parade to celebrate Armed Forces Day.
Massed pipes and drums and the rumble of vintage vehicles will echo through the city centre with thousands of spectators expected to convene in Union Street.
The proceedings will begin at 11am at Albyn Place and continue along Union Street, down towards the Castlegate.
The parade will be led by a pipe band formed from members of the Aberdeen University Officers Training Corps, Robert Gordon's College, Lonach, Ballater and District, Kintore and the Gordon Highlanders Association pipe bands.
A number of road closures will be in effect during the day. Several roads and their adjoining junctions will be closed from 10.45am to 12.30pm from today.
These are Union Street, and the junctions between Holburn Street and Castle Street; Back Wynd and the junctions between Schoolhill and Union Street; King Street and the junctions which are situated between Castle Street and West North Street; and Chapel Street between Union Street and Thistle Street.
A temporary taxi rank will be provided from 10am to 1pm as a result of the waiting restrictions that are in place on the west side of Chapel Street, north of the junction with Thistle Street.
One-way restrictions which are usually in place on Exchequer Row and Shiprow will be suspended between 10.45am and 12.30pm.
Vice Lord Lieutenant Andrew Lawtie said: "Aberdeen always embraces this opportunity to say thank you to personnel for their service to the country by turning out in large numbers to watch the parade.
"It's heart-warming to see spectators young and old pay tribute".
Mr Lawtie will also represent the Lost Provost of Aberdeen by taking the salute, along with Lt Col Phil Fox, Commanding Officer of the Aberdeen Universities Officers Training Corps.
A number of city councillors have served in the forces including the SNP's Michael Hutchison and Conservative member, Brett Hunt.
George Street and Harbour member Ryan Houghton served in flight operations for the RAF between 2009 and 2015 and took part in a tour of Afghanistan.
He said: "Aberdeen has a very rich military history, and we can see across the city centre the role that Aberdeen and Scotland has played in various conflicts."