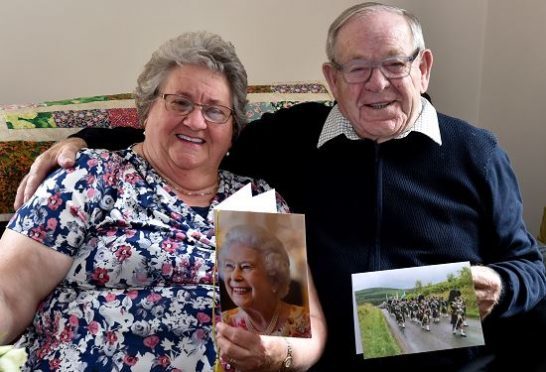 An Aberdeenshire couple who met at a dance more than half-a-century ago have just celebrated 60 years of marriage.
John and Charlotte Barber, stalwarts of the Strathdon community, married at Aberdeen's registry office in 1957 and have lived in the same area since then.
Mrs Barber, 78, readily admits that she has never lived "any more than a five-mile radius" from her birthplace which was at Boathouse "just up the road".
But she has still enjoyed witnessing many showbusiness stars up close and personal while working for the "Big Yin" himself – Billy Connolly.
The couple met at the Lonach village hall dance where John, 86, introduced himself after he had recently moved to the area from his home town of Huntly to start work as a trapper on the Candacraig estate.
The pair lived in a cottage on the estate and went on to have three children, four grandchildren and four great-grandchildren.
Mrs Barber insisted she didn't want any big fuss made about the landmark anniversary, but had enjoyed a "lovely" meal surrounded with her family.
And she added that, despite their many years together, the duo had hardly ever argued.
She said: "We never fight – we have had no big disagreements – or nothing serious anyway."
Prior to her retirement, Mrs Barber worked as a housekeeper for Mr Connolly and his wife Pamela Stephenson when they owned Candacraig estate and has very fond memories of her time there.
She particularly enjoyed the recently-knighted Scottish comedian's 60th birthday party which was attended by scores of celebrities including Prince Charles, the Duchess of Cornwall, Prince Andrew, and singer Bob Geldof.
She recalled: "It lasted for two days. I mean people went home and then came back the next day – it was wonderful."
Mr Barber worked his way up the ranks on the estate and eventually retired as head gamekeeper in 1994.
He then took on a more active role for the traditional Lonach Gathering, becoming secretary for eight years and spearheading the Men of Lonach's groundbreaking trip to Hungary in 1996, to represent Scotland at the 1,100th anniversary of that country's foundation.
Since then, Lonach has been represented at international events as far afield as France, Germany and New York.
Councillor Geva Blackett was on hand to present the couple with some flowers and whisky and said: "I have recently celebrated my own 30th wedding anniversary, so to see Mr and Mrs Barber now reaching twice that amount is quite an achievement.
"It really was just a joy to visit with them and hear all their happy memories."
Mr and Mrs Barber's family have continued the tradition of involvement in the Lonach community – with some being members of the pipe band.