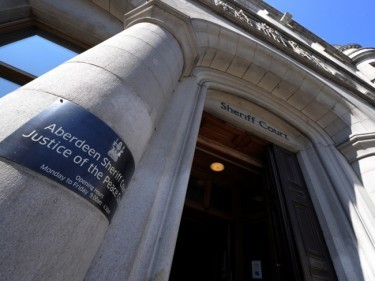 A court heard yesterday how police found a note containing the same numbers recorded on a pensioner's bank card during the search of an alleged fraudster's home.
Detective Constable Laura Jardin said officers were tasked with carrying out a search of a city flat following reports of a suspected fraud committed at a sheltered housing complex.
The officer visited the home of Phyllis Melrose, who has since died, over concerns that someone had stolen her bank details from her handbag.
DC Jardin took a statement from the 90-year-old after a woman visited her at the Craigton Park care facility in Aberdeen.
She said she noted that the pensioner described herself as frail with medical conditions, including angina, bad sight and hearing problems.
The jury at Aberdeen Sheriff Court heard that Mrs Melrose let the stranger into her flat because she was expecting a council worker to visit on November 22.
She added in her statement that the woman asked her to make a cup of tea and was "very abrupt".
The pensioner told the police officer: "When I came back, the woman was standing in the hall with her mobile phone. She said she had to go and left."
The pensioner then discovered that her handbag was open "with everything on show".
When police arrived at her home the next day they helped her cancel her bank card and discovered that transactions worth £3,469.25 had been made on it.
DC Jardin later carried out a search of the two-bedroom property rented by Cheryl Mitchell, who is on trial accused of scamming pensioners out of more than 57,000 pounds.
She told the court a note was found in the kitchen bin of the Portland Street property with numbers written on it.
Fiscal depute Allan Townsend asked: "Did you notice anything significant about these numbers?"
She replied: "On checking the statement from the previous day, these numbers were the same that was on the TSB card belonging to Phyllis Melrose."
Mitchell, of Aberdeen, faces 27 charges relating to fraud alleged to have been committed over a seven year period between 2009 and 2016.
The 35-year-old is accused of gaining the trust of pensioners at their doorstep then stealing their bank card or financial details to buy goods and services online.
Mitchell is also accused of fraudulently obtaining more than56,000 of tax credits when stating she was the lone mother of eight children instead of two between 2013 and 2016.
She denies all charges.