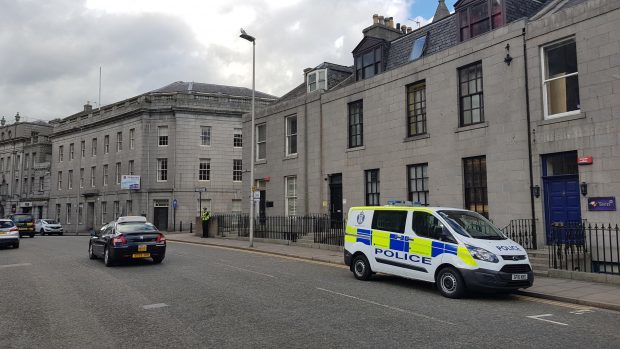 Police sealed off two city centre streets in Aberdeen following two separate disturbances.
An investigation was launched after a man was assaulted in the city centre on Saturday afternoon.
Police were called to St John's Place, off Crown Street, following a "disturbance" at around 3.40pm.
Officers sealed off the street and it remained closed for several hours.
A police spokesman said a man had been assaulted.
He added: "Further inquiries are ongoing, it came in as a disturbance."
Meanwhile, police cordoned off Wallfield Place, in the Rosemount area of the city, after a woman was allegedly on scaffolding three floors up.
The control room received a call from a concerned member of the public at 23.40pm on Saturday voicing fears for the woman's safety.
Police negotiators had to be called in to talk her down.
Several police units remained at the scene until 3am on Sunday by which time the woman – who was wearing her dressing gown – had been brought to safety.
She was not injured and did not require hospital treatment.
A police spokesman said: "We got a call voicing concern for a woman who was on scaffolding wearing her dressing gown.
"Police negotiators were brought in to speak to her and managed to bring her to safety."
The spokeswoman said the road had been closed amid concerns for both the woman and passers-by.
Glass could be seen on both the pavement and road following the incident.
Local councillor Bill Cormie said: "It is never nice to hear a disturbance at any time of day or night but when the police are called and the street is taped off, then people do begin to worry about
what is going on."
A police spokeswoman confirmed that as a result of the incident, a 19-year-old woman was charged.
She is expected to appear in court today.