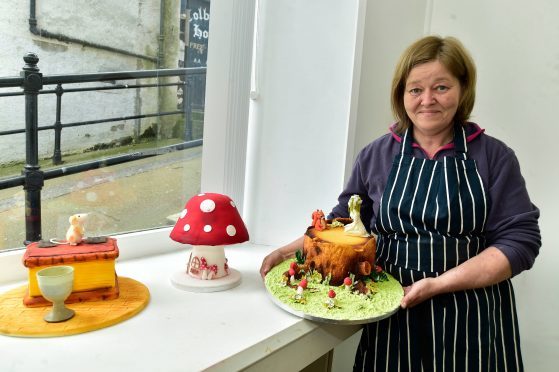 A north-east cake maker who hopes to reopen a long-empty Banff bakery has been left reeling after health inspectors demanded thousands of pounds of improvements.
Angela Wiseman says she has received significant support from the public in her bid to expand her at-home business into the former Chalmers Bakery – but lacks the cash to make her dream a reality.
She has been told that the bakery, which has been closed for about 15 years, needs new floors and other significant improvements before it can be approved for food preparation – doubling her costs.
Mrs Wiseman has now appealed to supporters to help raise the extra money – about £6,000.
She said: "We had environmental health down to visit the shop and within 15 minutes there our costs have doubled.
"He wants industrial flooring laid and rooms wet-walled. It's things we haven't the budget for.
"We've tried to get start up loans and grants from the council, but the ones they have aren't for retail businesses. It got the point where we have too much money outlaid to turn our back on it.
"People are stopping and popping their heads in the door telling us how excited they are that we will be here, and we'd like them to help us.
"We don't want to give something for nothing. We're asking people to do a little bit of forward shopping."
Taking inspiration from entrepreneurs like cheese toasty business Melt, in Aberdeen, she is offering up rewards for anyone willing to back her plan.
They include one-on-one training sessions to free chocolate cakes.
And in an effort to boost donations, the shop will host an open day this Saturday.
On show will be the treats Mrs Wiseman hopes to be able to sell out of the premises.
She added: "Every day there's someone new coming in the door telling us how good it will be to have us in the town centre."
To donate visit: www.crowdfunder.co.uk/granny-bakess-cake-patisserie