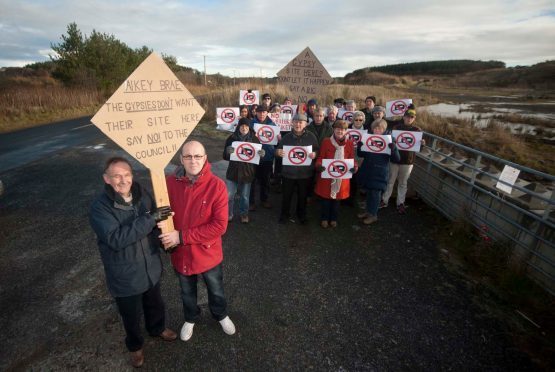 Aberdeenshire Council has launched a process to find a builder to construct the region's first official site for travellers.
The controversial £250,000 scheme was approved in March and the local authority has now issued an open call for firms to bid for the contract.
A disused quarry near Old Deer has been chosen as the location for a a 10-pitch caravan site with room for 20 vehicles overall.
Fundraiser for legal challenge to Aikey Brae traveller site stalls
The Aikey Brae development will also include toilet and washing facilities.
The winning bidder will be determined by their cost estimate.
Applications are being accepted through the Public Contracts Scotland website.
A third of councillors voted against the proposal and some local residents hope to hold up the development by making a legal challenge.
The Old Deer Community Association and Aikey Action Group have however so far only raised £920 of the £5,000 they want to lodge their challenge.
Travellers will be able to stay at the site for up to 28 days at a time and the camp will be managed by a council liaison officer.
Children at the camp will be zoned for Maud School but could also be taught by a visiting teacher.
The decision came after months of public consultation and an impassioned speech from Lynne Tammi, the director of human rights group Article 12 in Scotland, who said the site would help women access healthcare.
She said: "There are three pregnant women in roadside camps in Aberdeenshire. Due to the uncertain nature of the camps they are unsure about registering with GPs.
"Gypsy travellers are more likely to suffer miscarriage, stillbirth and the death of a small child."
There were 61 unauthorised encampments in Aberdeenshire last year, more than in any other region of Scotland.
Local councillors have claimed that Aikey Brae was the wrong site for the camp.
Councillor Norman Smith described approval as a "sticking plaster" for a much wider problem.