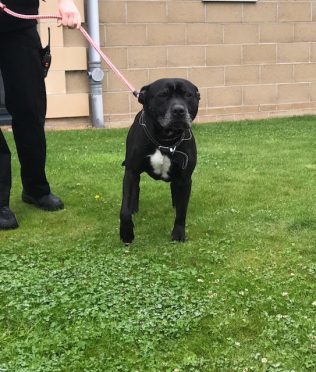 Animal welfare officers are hunting the owners of a dog left tied up in an Aberdeen street for around two hours.
The nine-year-old Staffordshire Bull Terrier – named Chisco – was taken in by the Scottish SPCA after being spotted by a member of the public in Froghall Avenue last Thursday.
The dog is now in the care of the charity's Aberdeenshire Animal Rescue and Rehoming Centre, where a microchip scan has established his name.
Centre manager Graeme Innes said: "Although he is microchipped, we have been unable to trace his owner through details provided.
"We aren't sure how Chisco came to be there alone and can't rule out the possibility he has been abandoned.
"We are asking people in the area with any information to call our helpline on 03000 999 999."
Inspector Fiona Mckenzie said, "Chisco is so friendly and didn't seem to mind the van ride to our centre in Aberdeen.
"Although he was tied up for roughly two hours, he is in good health."
Staffordshire Bull Terriers are one of the most abandoned breed of dogs, with rehoming centres up and down the UK full of the animals.
Many of the abandoned dogs have been bred to fight by irresponsible owners.
The charity also warned that abandoning an animal is an offence under the Animal Health and Welfare (Scotland) Act 2006.
Anyone found guilty of doing so can expect to be banned from keeping animals for a fixed period or life.
The act places a duty on people who are responsible for animals to ensure that the welfare needs of their pets are met including being exercised properly, watered and fed an appropriate diet and to make sure adequate accommodation and a suitable environment is provided. Owners must also ensure their pets are protected from suffering, pain, injury and disease under the laws.