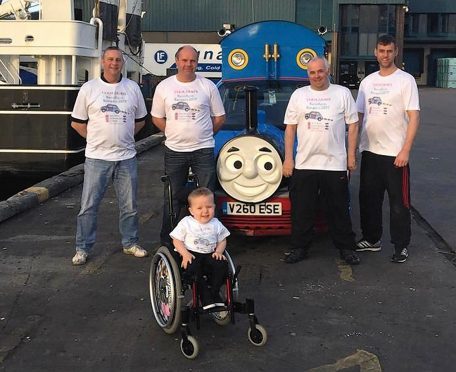 A family who built a Thomas the Tank Engine car for a 2,000-mile charity challenge are going to auction it off to boost funds for spina bifida research even further.
James Ritchie and friends Graeme Smith, Graham Cowie and Allan Taylor, from Peterhead, designed the machine to take part in the Benidorm Banger challenge to raise funds for Spina Bifida Hydrocephalus (SBH) Scotland.
The beloved children's character is a favourite of Mr Ritchie's two-year-old son, also called James, who suffers from spina bifida.
The team – dubbed the Bloo Toon Loons – has already raised close to £10,000 for charity as well as raising the profile of the condition both at home and abroad.
Now baby James' mum Emma has announced plans to auction the custom-made vehicle as a last hurrah in the campaign.
She said: "He was the reason behind the whole campaign, to raise funds for a charity that helps us help support baby James.
"Months went on and Thomas was completed to a very high standard. He caught the eye of so many people and it became very popular. The Bloo Toon Loons completed the rally and managed to pick up the prize of best car.
"Sadly all good things have to come to an end as we all know and Thomas will soon be going up on Ebay for auction."
A spokeswoman for SBH Scotland said the organisation was "in awe" of the efforts to build the car and journey to Spain.