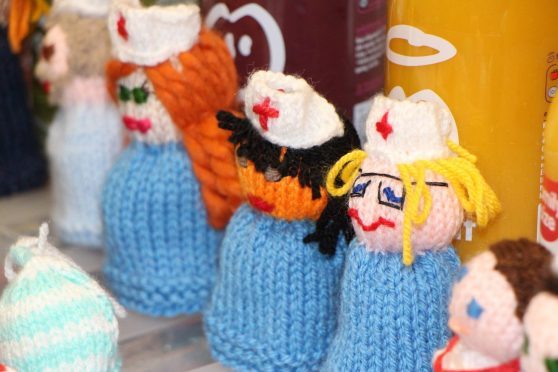 Patients and staff at a north-east hospital have created more than 600 tiny knitted hats to help raise awareness of the danger which cold weather presents to the elderly.
The Big Knit is an annual campaign across the UK which encourages people to create miniature hats for bottles of smoothies which will then be sold to the public.
The initiative's aim to is highlight the conditions in which some of the country's elderly are living when cold weather hits during the winter.
The hats are collected and used by drinks firm Innocent which then donates 25p of every bottle sold to charities such as Age UK.
And this year, patients at Royal Cornhill Hospital in Aberdeen were among the knitters to get involved with the campaign.
Working in tandem with family members and staff, the hospital has donated 632 miniature hats to the cause.
Rebecca Dickson, community and events fundraiser at Age Scotland said: "That is an incredible achievement and the team at Royal Cornhill Hospital should be very proud.
"We are always so inspired by the effort that goes into the Big Knit by groups across Scotland."
Kelly Cartmel, a staff nurse at Royal Cornhill Hospital spearheaded the knitter on the Muick ward.
She added: "The Muick knitting group decided that we would aim for 500 hats and set ourselves a deadline of July 1, thinking this would likely be unachievable.
"Lots of people on Muick have contributed: nursing staff, our senior charge nurse, doctors, and of course the patients – with one patient knitting over 150 hats."
Last year, the Big Knit raised about £200,000 for Age UK.
It was enough to fund 20,000 calls to its advice line and 10,000 winter warmth packs, which include blankets and hot water bottles, to help people during winter cold snaps.
Since it was launched in 2003, £1.9million has been raised through the campaign.
A spokesman for Innocent said: "Every time we sell a little bottle wearing a hat, we donate 25p to Age UK to help keep older people warm and well over winter.
"The colder months can be tough for a lot of people – as many as 25,000 older people's lives  are at risk because of the cold."