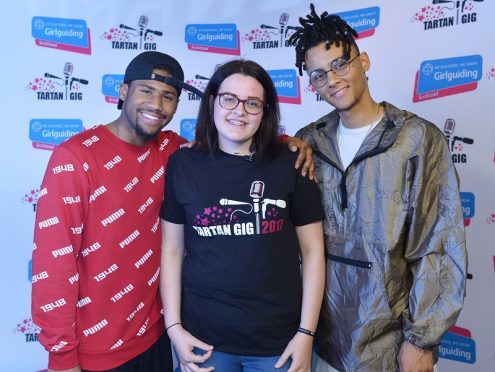 A north-east teenager rubbed shoulders with the stars at an exclusive pop concert for girlguides.
Turriff girl Caitlyn Ogg was chosen to act as a showbiz reporter at Tartan Gig – Girlguiding Scotland's biggest-ever pop concert.
The event at the SSE Hydro in Glasgow brought together 8,000 girl guides, in addition to stars including Jess Glynne, Louisa Johnson, Pixie Lott and John Newman.
The 15-year-old, who is a young leader with the 2nd Turriff Guides, had the chance to put her questions to the star-studded line-up.
She said: "Getting to interview some of my favourite singers at Tartan Gig was a brilliant experience. I was a bit nervous beforehand, but everyone turned out to be really nice.
"It was brilliant chatting to Five After Midnight, Cel Spellman and John Newman about how they overcome stage fright and who inspires them and it was amazing to meet Jess Glynne in person."
Caitlyn added that being a member of Girlguiding Scotland had given her and her fellow guides "amazing opportunities" to try new things in recent years.
Pixie Lott said: "I loved being part of Tartan Gig – Girlguiding Scotland's biggest ever pop concert. It was amazing to look out at the crowd and see thousands of girls dancing and singing along.
"As a former Brownie myself, I am really proud to be part of this unique event. From playing games to camping, I loved my time as a Brownie and it's brilliant to see Girlguiding Scotland is still giving girls a space to be themselves, have fun and reach for the stars."
Girlguiding Scotland is the largest charity for girls and young women in the country, with around 50,000 members aged between 5 and 25. The organisation's aim is to build confidence and raise aspirations among young women.
It also gives members the chance to take part in a wide range of outdoor activities as well as travelling around the world and getting involved in sports and science.