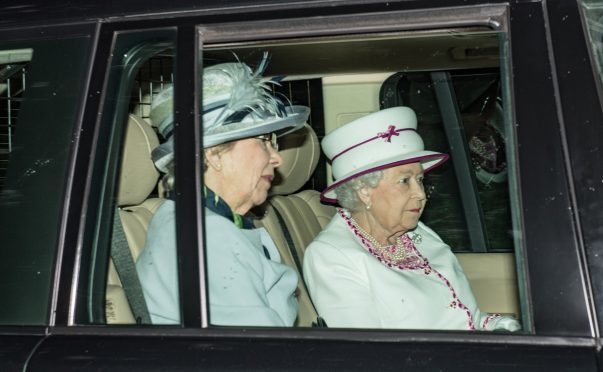 The congregation of a Deeside church welcomed a very special visitor yesterday when the Queen began her annual summer holiday at her Scottish retreat.
The monarch attended the Sunday morning service at Crathie Kirk accompanied by her lady-in-waiting.
No other members of the Royal Family were at the service.
The Queen, who arrived in the area on Friday, is currently staying in a separate house in the Balmoral grounds as the main castle remains open to paying members of the public until early next week.
Balmoral, which was bought by Prince Albert in 1852, is believed to be the Queen's favourite home.
The Rev Kenneth Mackenzie, of the Braemar and Crathie Parish, led the Sunday morning service.
He said the Queen's extended summer visit was a "special" time of the year for churchgoers.
He added: "It was nice for the parish to welcome her back.
"The service was pretty much the same as any regular worship service, but when the Queen is here, we do sing the national anthem at the end."
The road leading up to the church – which is often packed with tourists hoping to catch a glimpse of the Royal Family – remained quiet yesterday, because so few local people were aware the Queen had arrived in the area.
Members of the Royal Family have worshipped at the Deeside parish since the days of the Queen's great great grandmother Queen Victoria.
In the coming weeks, the Queen is expected to welcome First Minister Nicola Sturgeon to Balmoral.
It is also traditional for the Prime Minister to spend time with the Royal Family during their stay.
Earlier this month, the Queen and the Duke of Edinburgh stayed at the Palace of Holyroodhouse, in Edinburgh, where they attended the annual garden party.
The Royal couple also arrived by boat to visit The Kelpies sculpture, near Falkirk, to unveil a plaque to name the Queen Elizabeth II Canal which runs through the Helix development.