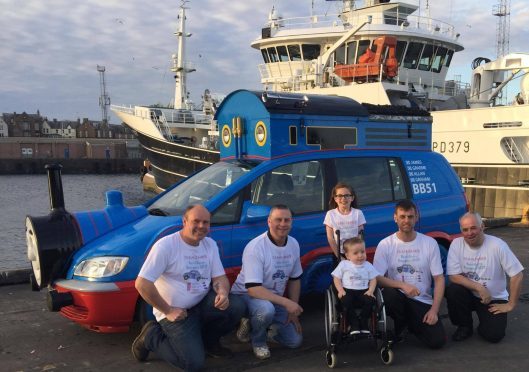 A custom-made Thomas the Tank Engine car which was driven across Europe to raise cash for charity is up for auction – and bidding has already jumped from 99p to £1,500.
Peterhead man James Ritchie designed the machine with family friends Graham Cowie, Graeme Smith and Allan Taylor to take part in the Benidorm Banger challenge to raise funds for Spina Bifida Hydrocephalus (SBH) Scotland.
They were inspired by Mr Ritchie's two-year-old son, also called James, who is an avid fan of the children's character and suffers from the condition.
The Bloo Toon Loons have raised more than £10,000 for SBH Scotland already and have now put their beloved creation up for sale.
Baby James's mum Emma said the auction was a last hurrah for the vehicle, and would help boost the final fundraising total.
"We'd like to thank the three families who took part in this adventure with us – the Smiths, Taylors and Cowies," she said last night.
"It's been a very exciting road trip and the support from the public has been amazing. Baby James will really miss Thomas the car but will be delighted if another family can put it to good use like ours has."
There are eight days left to bid on the machine, which is up for auction on Ebay as item 222593887522 and has attracted more than 20 bids so far.
All proceeds from the sale will go to SBH Scotland. A spokeswoman for the charity said the organisation was "in awe" of the efforts to build the car and journey to Spain.