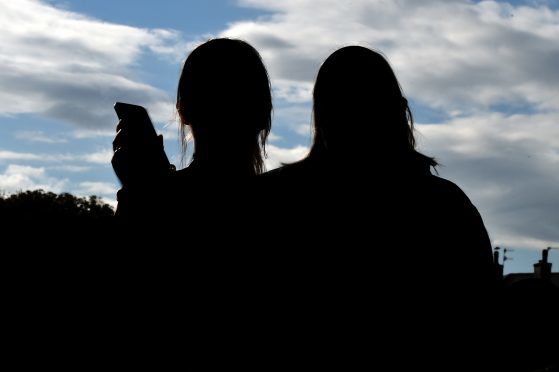 An Aberdeen mum has spoken out after a video showing bullies attacking her vulnerable daughter and smashing her mobile phone went viral.
The shocking footage, which has now been viewed more than 98,000 times, shows the gang chasing the terrified youngster down Great Northern Road before blocking her in outside a home.
Frantic, the girl, 14, can be seen knocking a door and pleading for help wile tears run down her face and the group watch on and laugh.
One of the gang then smashes the girl's phone on the ground before launching a physical attack, grabbing her hair and repeatedly punching her in the face.
Speaking to the Press and Journal last night, the girl's mother said her child was currently being tested for autism and that she believed she had been sought out by the group specifically due to her learning difficulties.
"They see her as different because she has a mental age of about six," she said.
"She comes home with snapped glasses or a bloody nose but I'd never seen it for myself until I watched the video.
"It broke my heart to watch what they did to her. My friend sent me the video and I was just heartbroken. It was disgusting to watch. I broke down in tears."
The girl's father, who viewed the footage online after receiving a phone call from her worried mum, said he was shocked to see the extent of the bullying.
"It was difficult to watch," he said. "Her mum had told me what was going on but to see it was different.
"It was a busy road as well. She doesn't go to the same school as the kids but I know she had been having trouble with them for a while."
One of the girls has now been charged in connection with the incident after police launched an investigation into the footage but both parents said they are concerned action was only taken after it was published online.
A crowd funding page was later set up to raise money in order to replace the little girl's phone and by the end of last night enough cash had been donated.
A Holyrood report earlier this month revealed the extent and seriousness of bullying in Scottish schools, with online abuse identified as a major contributing factor.
Campaigners for the organisation Childline, who offer counselling to children over the phone, say it has become one of the biggest child protection challenges in Scotland and one of the most frequent reasons for calls to their helpline.
A spokesman for NSPCC Scotland, the charity who run the service, said: "The 24/7 nature of social media means that a child can be targeted around the clock, with abuse and bullying filmed, posted online and shared thousands of times."
He added: "We want social media companies to block videos of children being physically bullied and abused as soon as they come to their attention, and we would encourage the public to report these videos rather than sharing them."
A spokesman for the charity Scottish Autism said raising awareness of the condition remains key to tackling the bullying and harassment many young people face.
He said: "It's not uncommon for children and young people with autism to experience bullying as they can sometimes present differently to their peers.
"For us, the key thing is to help people better understand the condition as this can often be the best way to target any stigma around it."