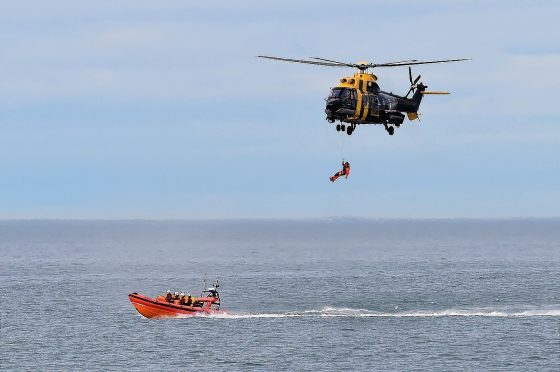 A hooded thief has stolen a cash box that was raising vital funds to support volunteers who save lives at sea.
Dolphin Fish and Chips in Macduff was broken into yesterday morning when a man, armed with a pillowcase and a brick, caved in the property's front door and made his way in to loot the shop.
The culprit was wearing a hooded top and hat to conceal his face from the property's CCTV cameras.
He grabbed an RNLI charity box before making his escape.
The Dolphin's owner, Dave Wiseman, has now appealed for members of the community to help track him down.
The alarm was raised shortly after 3am when a neighbour called police to report someone smashing the door's window.
Mr Wiseman, who took on the chippy last year, said: "It was at about 3.10am – a guy came down with a pilow case with a brick in it and smashed the front door.
"He jumped in and the only thing he took was the lifeboat charity box.
"It looks like he used his lighter to look under the kitchen counter and then went into the kitchen and opened the back window to exit through the back.
"Nothing like this has ever happened to us before. We've only had the shop since November. It was actually a neighbour who called the police because he heard the guy."
Police have advised Mr Wiseman to not share images from the CCTV footage online.
But through the Dolphin's social media page, Mr Wiseman has asked anyone who may know the thief to report him to the authorities.
He added: "We've been getting a good reaction from people sharing the post, but the problem is that there's not a lot of people going about at that time of day."
The theft is the second time a lifeboat charity box has been stolen in the area in the last 12 months.
A newsagent on Duff Street had its box stolen during a break-in last October, and a takeaway in Banff had its stolen in February.