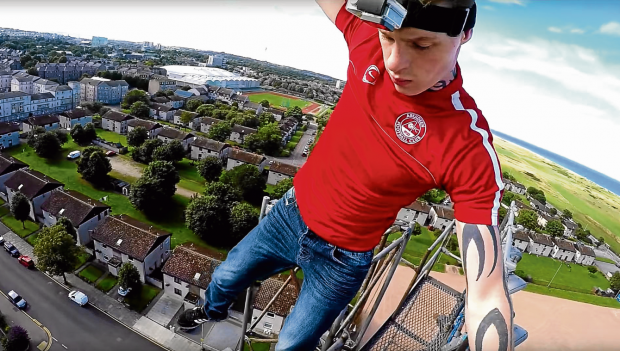 This is the terrifying moment two "idiot" climbers scaled the floodlights of Aberdeen FC's Pittodrie stadium in a death-defying stunt.
The daredevil free climbers released the shock video yesterday showing them clambering over the walls of the home of the Dons.
Last night the stunt was slammed as "reckless" and "irresponsible" by critics who said it was "only a matter of time" before someone was killed copying it.
The police also criticised the unauthorised actions and said they were making inquiries into the incident.
Elvis Bogdanovs, who has previously posted footage of himself and friend Robbie Borthwick climbing a crane on an Aberdeen bypass site, uploaded the latest exploits to YouTube.
The 11-minute film shows the pair, one wearing a Dons shirt, taking a running jump at a perimeter wall and clambering inside the stadium.
They check for anyone else inside, before climbing up to the very top of the floodlights, with Mr Bogdanovs hanging off by his fingertips.
It features shots from the structure looking out across the city and of the ground below at stomach-churning height.
When near the top, Mr Borthwick accidentally drops his selfie stick, a slip which could have caused anyone walking below a nasty injury.
He then attempts to walk along a metal bar at the very top of the lights, at least 30 metres high, before stepping off when it becomes too windy.
Chief Inspector Kevin Wallace, the local area commander, said: "We would not support such activity and are aware of the inherent dangers associated with this sport.
"Climbs such as these should be done in conjunction with the owners of buildings and equipment, who will have in-depth knowledge of specific dangers associated with the site, staff and public use and access issues which may be impacted.
"Our view would be to only climb within the range of your own experience and capability and only with the permission of the owner of the property and buildings concerned."
A spokesman for the club said: "They are obviously compromising their own safety and we have informed the police."
George Street and harbour councillor Sandra Macdonald said:"I think supporters of the club would think they are idiots and would be very unhappy to see them acting like this.
North-east MSP Tom Mason said: "It is no exaggeration to say that one of these young men could have been killed scaling the floodlights at Pittodrie Stadium.
"This type of daredevil stunt sets a terrible example for other young people, who may be tempted to follow suit. It would only be a matter of time before someone is badly hurt."