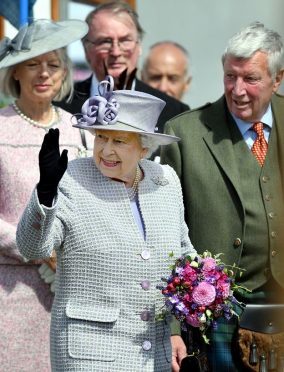 Organisers of the Aboyne Highland Games were handed the perfect present to celebrate the event's 150th anniversary: a surprise visit from Her Majesty the Queen.
A palpable sense of tension had been building among the crowd of around 9,500 who attended as rumours spread that the head of state might be joining them.
And Granville Gordon, the 13th Marquis of Huntly, the chieftan of the games, confirmed it in his opening speech.
He said: "There won't be a soul here today that doesn't know that we have been honoured with a visit from Her Majesty the Queen; this is something we could never have dreamed of. "
As the sun emerged over the village green where the games have been held on the first Saturday of August since 1867, a massed and colourful pipe band played Cock of the North ahead of Her Majesty's car.
It was made up of bands from Ballater and District, Banchory and District, Clan Hay, Ellon Royal British Legion, the Gordon Highlanders Association, Grampian and District, Huntly and District, Lonach, Newtonhill, and Towie and District.
Wearing a lavender dress and matching hat, the monarch arrived in a green Range Rover for her first ever experience of the Aboyne event.
She was welcomed by the marquis and games chairman Alistair Grant, whose granddaughter, 11-year-old Carlie Esslemont, presented her with a posy of flowers.
Local heavies Jamie Dawkins and John Fyvie later showed Her Majesty the new Aboyne Caber which was specially commissioned to mark the 150th anniversary.
It was made from Douglas fir planted 60 years ago.
She blessed it by pouring a dram of specially selected 14-year-old whisky on it before it was used in competition.
Over 90 events were enjoyed throughout the day including favourites like tossing the caber, the hill race and the tug of war.
While it was the Queen's first visit, the royals have a long association with the event.
In 1876, her grandfather George V and great-grandfather Edward VII attended along with Prince Leopold, the youngest son of Queen Victoria.
The Queen left the arena just after noon to applause.
One of the premier events in the games calendar, Aboyne attracts people from around the globe with overseas visitors asked to put pins in a world map to mark where they were from at the Overseas Tent.
By the end of the day pins had been placed as far afield as Ecuador, Morocco, Oman, Russia, Malaysia and China. One pin was even put in North Korea.
Alistair Grant, chairman of the games, said the visit was "an honour and a privilege".
He added: "She took a real interest in how our new Aboyne Caber was crafted and seemed particularly taken to learn about the visits her ancestors had made to the games."
Ian Scott, who stood down as chairman this year after a decade in the role, said:  "Our job here at Aboyne has always been to retain the traditions of the games but at the same time keep them relevant to the audience of today. "