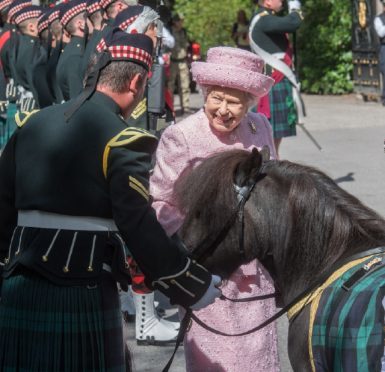 The Queen chuckled as she made amends with an old foe at Balmoral yesterday – a "mischevious" pony who tried to bite her during a previous holiday there.
The monarch began her yearly stay at the Aberdeenshire royal residence by inspecting the soldiers tasked with looking after her during the holiday.
The 91-year-old maintained a serious expression as she looked over the 2nd Battalion Royal Highland Fusiliers.
But she couldn't help breaking out into a wide grin upon being reacquainted with Cruchan IV – the Shetland pony who serves as the Regimental Mascot of The Royal Regiment of Scotland.
The feisty creature rolled back his top lip and appeared ready to bite Her Majesty as she inspected the troops at Balmoral Castle in 2014.
And just as the ruler finished inspecting the guards and was walking away yesterday, the little horse let out a loud whinny.
The Queen provoked laughter from hundreds of onlookers as she snapped back: "Oh we know where you are."
But Cruachan IV, now seven-years-old, appears to have mellowed over the past few years as relations between the pair remained friendly throughout the occasion.
The regiment's Shetland mascot tradition began in 1928, and the first to march with its soldiers was Cruachan I.
The position has since been held by another three black Shetland geldings, with Cruachan III retiring at 23-years-old in 2012.
Crowds of well-wishers held their phones aloft and snapped photographs of the Queen as she commenced her summer break in Deeside.
Wearing a pink jacket and skirt, with matching hat, the long-serving monarch entered the grounds to the sound of bagpipes.
The troops generally remain in residence nearby at the Victory Barracks in Ballater, and provide guards for the duration of the Queen's holiday.
The tradition was established by Queen Victoria and her husband Prince Albert, who bought Balmoral in 1852 and fell in love with the environs and surrounding countryside.
Although Balmoral remains largely the same as it was in Queen Victoria's reign, successive royal owners have followed the initiative spearheaded by Prince Albert in making improvements to the estate.
The Queen's unexpected appearance was one of the highlights of the 150th Aboyne Highland Games on Saturday.
It was her first ever visit to the event, which her grandfather George V attended in 1876.