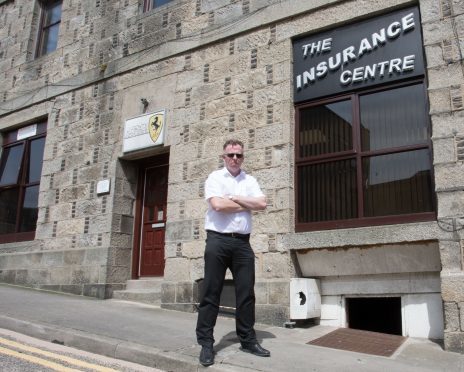 The nightmare of a lifeboat volunteer whose business has repeatedly flooded with sewage for three decades could be about to end – as major repairs finally get under way.
Stuart Fenty manages Fraserburgh firm J Fenty Insurance Services with his wife and four staff.
He also coordinates the town's RNLI lifeboat crew.
The sewer on Kirk Brae outside his office is faulty and has sporadically flooded his basement with raw sewage over the past 29 years.
Repeated attempts to fix the problem have failed.
But Scottish Water – the body responsible for the foul water pipes – has announced that major repair works scheduled for next week have been brought forward to today in a bid to resolve the debacle once and for all.
Mr Fenty has branded the fiasco a "comedy of errors" but said the latest effort to clear the sewer last week may have revealed the true cause.
"A subcontractor came out and found the blockage between two manholes, a collapsed pipe," Mr Fenty said.
"The guy said no wonder I have been having problems. He cleared it out and arranged for a repair."
Last night Scottish Water apologised to Mr Fenty and confirmed work would begin today.
A spokesman for Scottish Water said: "Scottish Water contractors will be starting the repair work on the manhole in Kirk Brae tomorrow, one week ahead of the date previously stated.
"This work had been brought forward in an effort to mitigate the impact on the affected customer."
The repair works in Kirk Brae will last until Friday and the road will be temporarily closed.
The spokesman said: "Our contractors have been attending locally to flush the sewer system near the affected property in an effort to help address any flooding issues. Our contractors will also continue to monitor the situation."
He added: "Scottish Water would like to apologise for the inconvenience and offer our thanks to the customer for the patience shown during this period."