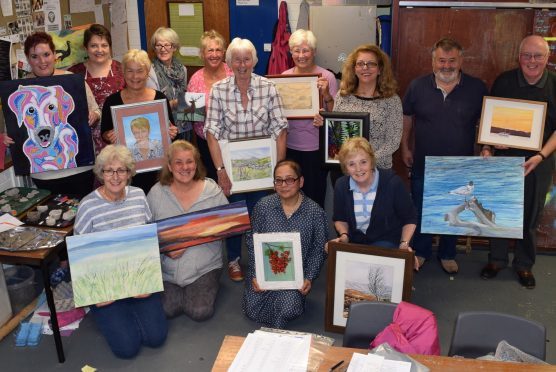 Work by a woman who has discovered the healing power of art after years of living with mental illness will be featured in an exhibition.
The Garioch Art group has been meeting every week for 35 years and offers support and some tutorage to its 21 members.
This year the group received a grant of £1,000 from the Aberdeenshire Central Alcohol and Drugs Community Forum which has been utilised to provide extra painting materials and additional workshops.
The successful funding bid was dubbed the "Power of Painting" by group member Jenny Stuart, 38, who has first-hand experience – being a recent service user of the Forum.
She said: "When I started coming along to the group I could not paint at all – I did dots and circles with felt pens.
"With me having Schizoaffective disorder, I have spent many, many years slumped in a chair and also spent some time in rehab when I was younger.
"But the art group has been so supportive and really helped build my confidence to develop my own style of painting.
"I really look forward to going along every week. It is the only thing that has held my interest, I paint every day now – it really chills me out."
Group spokeswoman Maggie Emslie last night enthused about watching budding artists develop and said: "It's wonderful to see how some people come along without any confidence at all and yet they have a go and get stuck in.
"I love seeing how they flourish and develop their own style. Jenny has been so enthusiastic and I can see it has made a real difference to her.
"The whole group supports each other and we give advice on techniques if someone is unsure."
The exhibition opens on Saturday, August 12 in Inverurie Town Hall and ends on Saturday, August 19. Opening times are 10am to 4.30pm Monday to Saturday and noon to 4.30pm on Sunday. Entry is free.
The group currently has a waiting list for new members. More information can be found at www.gariochartgroup.org.uk