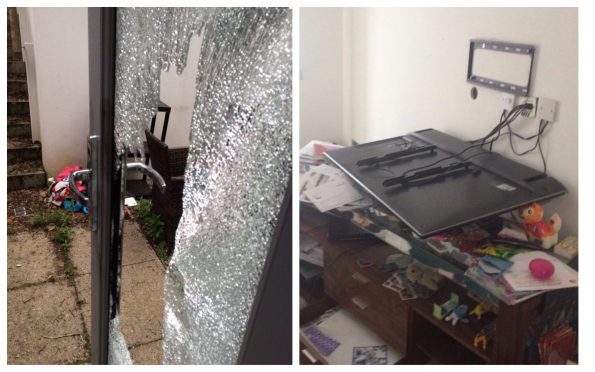 An Aberdeen father was left shocked after thieves "completely ransacked" his home in the middle of the day while he was out picking berries with his daughter.
Mark Ellis, 47, left his house on Oakhill Grange, close Mid Stocket Road, at around 10.15am on Sunday to take her and some family friends to Montrose to pick strawberries and gooseberries.
But when they returned home just after 4pm , Mr Ellis discovered his rear patio door had been smashed in and glass was strewn across his living room.
His television had been ripped from the wall and abandoned, cupboards had been emptied, and upstairs in his bedroom, the thieves had even gone through his wardrobes.
They made off with a number of electronic devices – including his daughter's educational toy.
Mr Ellis, who works in the oil industry, says he is just happy they were both safe.
He said: "When I first came in, I thought the cat had just decided to knock everything over. But when I went into the living room, I saw that the back door had been smashed in.
"They pulled the television off the wall, emptied all the cupboards, walls, and shelves – it was completely ransacked.
"They took electronic products – a work computer, a work phone, my computer, an iPad, and even my daughter's Leapfrog.
"This was the first time something like this has ever happened to me, so I might not know a lot about break-ins, but they seemed to know what they were doing.
"They got pretty much everything of value they could carry, and I think the only reason they gave up on the telly was because it was big."
After alerting the police, Mr Ellis spoke to neighbours, who reported seeing suspicious men in the area just before he arrived home.
He added: "I didn't get to sleep afterwards until 4am.
"I've lived in Aberdeen for five years now, but we've never felt unsafe. It's unsettling."
Anyone with information regarding the incident can phone the police on 101, or Crimestoppers on 0800 555 111 if you wish to remain anonymous.