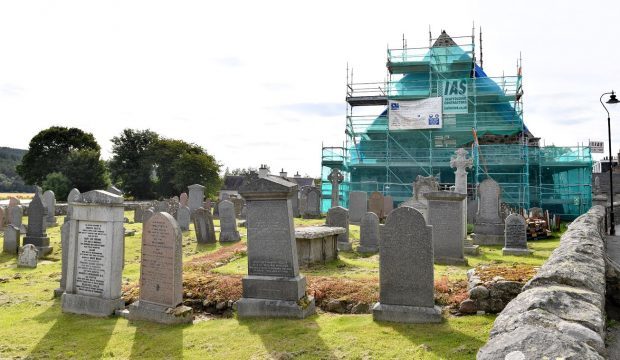 These images show work progressing on a 14th century church as part of a major preservation project in Aberdeenshire.
The Auld Kirk, in Kincardine O'Neil, is a familiar sight to anyone who passes through the Deeside village.
Both the roofless church and the adjoining graveyard are situated next to the North Deeside Road.
Last year, Aberdeenshire Council approved plans to protect the scheduled ancient monument, which is in danger of collapsing.
Laings Traditional Masonry Group, which was enlisted by the authority, has a number of measures it is currently carrying out on the A-listed building.
Since April, the firm has been working on strengthening the internal structure of the wall.
They have also been replacing materials at the top of the walls and the external facade.
And the restoration team will also attempt to secure a section of the sandstone arch on the east side of the building by stitching it back into the wall with stainless steel wire.
The kirk, which measures 67ft by 27ft with walls 4ins thick, was built to serve an adjacent hospital in the 14th century.
Prior to its construction, an early Christian church had been built on the site or near by St Erchard in the fifth century, a disciple of St Ternan who first brought the religion to the area.
The building originally had a thatched roof, but this was replaced with slates after a fire in 1733.
During this time the hospital fell into disuse and was torn down, however the kirk remained a place of worship.
In 1862 a new church was built and the kirk was left to decay with the interior used as a burial ground.
In the early 1930s, some restoration work was carried out in an attempt to preserve what was left of the site.
It is expected the current project will be finished by the end of the summer as the work is weather-dependent.