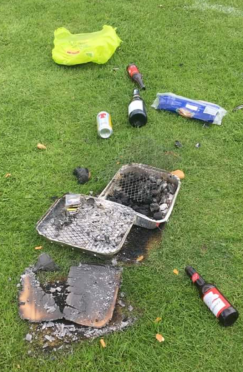 A councillor has hit out at lazy picnickers who left scorch marks on a freshly-cut playing field and beer bottles strewn about.
Plastic bags and a burnt-out disposable barbecue and were also found dumped at Harlaw playing fields in Aberdeen yesterday morning.
The trash was discovered by a passer-by who had been walking their dog.
The fields have only recently been prepared for the new football and rugby seasons.
And they are also a favourite with children in the area, who regularly flock to enjoy the play park.
Councillor John Cooke, who represents the Hazlehead, Queens Cross and Countesswells Ward, called for people using the field for picnics to have more consideration for others.
He said: "Someone's had a barbecue there. They've used one of the disposable ones and have scorched the grass.
"They've left empty beer bottles and cans and bags of rubbish. It just looks a complete mess.
"Someone has not been a terribly good citizen."
He added: "It's certainly not good for children who want to play there or for cats and dogs.
"It's normally reasonably well kept up there.
"I'm all for people having a good time, but in doing so they should tidy up after themselves.
"It's unacceptable for people to cause damage and leave a mess like this on the playing field. If they want to have a picnic there, that's fine, but they should take their litter with them, and have more consideration for others."