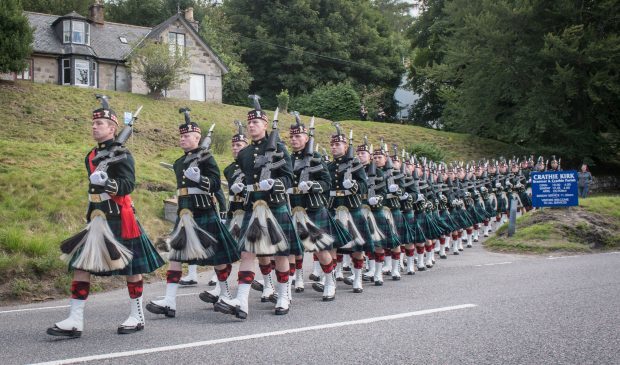 Marching in perfect unison, the Queen's Guard lead the way as Her Majesty and family headed to Crathie Church for Sunday service yesterday.
Passers-by watched on as the impeccably turned-out troupe strode side by side in their full livery as they carried their rifles over their shoulders.
Reverend Kenneth Mackenzie, of Crathie Church, said: "The guards did look very smart. Always when the Queen stays there is a group of soldiers in residence, and on occasion they do a guard of honour. It looked very impressive."
Her Royal Highness, looking resplendent as ever, wore a shiny green number with a matching hat adorned with feathers. Looking ever the stateswoman, she accessorised with pearls around her neck and deep red lipstick as she travelled with Prince Andrew, who donned a suit.
In another car, the Duchess of Cornwall flashed a smile for the cameras as rode shotgun next to the Prince of Wales, who concentrated on the road.
Prince Charles – known as the Duke of Rothesay when he is in Scotland – wore a smart suit for the visit, while the Duchess went for an understated grey blazer with chequered lapels. She wore her hair in her trademark bouffant style.
Prince Edward drove the Countess of Wessex and their daughter Lady Louise to the church. The beaming Prince looked the perfect country gent in his tweed jacket, shirt and tie. The Countess, who wore her blonde locks down in a neat pony tail, was also smiling as they made their way to the service. She wore a demure black number while 13-year-old Lady Louise sat in the back of the 4×4.
The Queen is on her annual summer break in Scotland and staying at Balmoral near the church, and has been seen on her way to Crathie Castle several times.
Balmoral, which was bought by Prince Albert for £32,000 in 1852, is said to be the 91-year old great grandmother's favourite home.
She moved into the castle last week, after spending several weeks at Craigowan Lodge, a smaller cottage on the estate while the last of the summer visitors explored her famous Scottish residence.
During her stay at the castle, she relaxes by going for walks on the Aberdeenshire estate, eating picnics and cooking barbecues.
Princess Eugenie has previously said of Balmoral: 'It's the most beautiful place on earth. I think Granny is the most happy there."