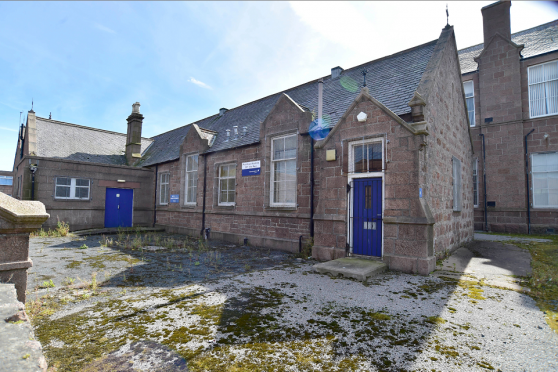 Council offices worth £1million in the north-east's biggest town are still lying empty – more than two years after they were put on the market to help fund a plush new HQ.
Hundreds of thousands of square feet of local authority property has been vacant in Peterhead since staff relocated to a bespoke £5million office complex.
As part of the "spend to save" move into Buchan House on St Peter Street, council chiefs announced it would sell its former bases to create space for new businesses and to pay off the investment.
Aberdeenshire Council's new £5million Buchan HQ officially opened
But four buildings, worth a combined £995,000, remain listed for sale on the council website.
Maintaining the buildings – including the former council chambers at B-listed Arbuthnot House on Broad Street and the Glenugie Business Centre – has cost the taxpayer around £100,000 in business rates alone.
Aberdeenshire Council has offered an assurance that some of the properties will be sold "imminently".
However, the same assurance was made in June last year.
Last night, the local authority's property boss Allan Whyte said: "We must gain the best value for the public purse and this can take time. We have however made significant progress in the disposal of our properties in Peterhead."
Mr Whyte said one office on Broad Street has been sold and another leased out. Property at 16 Prince Street was traded for land adjacent to Buchan House.
"A sale of Arbuthnot House, 60 Broad Street and 18 James Street is expected to complete imminently.
"The move to Buchan House and disposal of these properties is part of a council programme to create a reduced number of improved offices for council employees and residents."
He added that the authority is "considering" an offer for the Glenugie Business Centre and that 64 Queen Street is under offer.
The former schoolhouse and business centre at 53 Windmill Street is on the market for £450,000.
The authority's SNP-led Partnership administration made streamlining the council's property portfolio a priority for the 2016-19 period.
Former co-leaders councillors Richard Thomson and Alison Evison declined to comment.
Buchan House was officially opened in 2015 and has space for 200 staff from the communities, education and children's services, infrastructure and business departments.
It had been estimated the move would save almost £180,000 in bills each year, bringing office costs down from £378,000 to £200,000.
Deputy council leader Peter Argyle said: "Aberdeenshire Council is not immune to the challenging commercial property market. In addition we also have to ensure we get the right price for property. Our property staff have done a good job. There is no doubt in my mind that this project is of great benefit to Peterhead."
John Pascoe, vice-chairman of business group Rediscover Peterhead, added: "I see them as opportunities in the changing scape of town centres and Peterhead in general." He said the organisation is looking to set up a list of properties in the town to market them to firms outside the town.