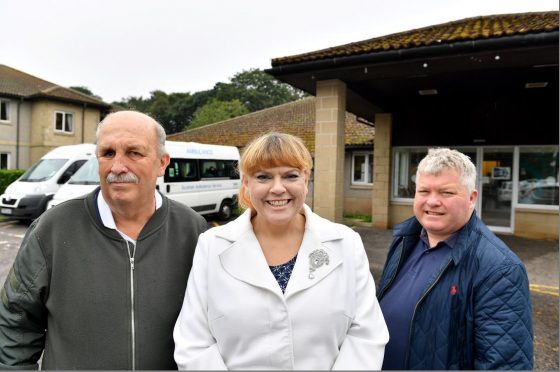 The starting pistol has been fired on a long-awaited kidney treatment centre for Aberdeenshire patients.
Yesterday, a sod-cutting ceremony was held at the renal dialysis centre, at Stonehaven's Kincardine Community Hospital.
It marked the culmination of five years of fundraising from the local community, led by the rotary club, who managed to raise more than £1million to turn the dream into a reality.
Currently, those living south of the city have to travel to Aberdeen Royal Infirmary (ARI) for treatment, putting further strain on exhausted patients.
A survey carried out by NHS Grampian recently revealed that between 35-40% of ARI kidney unit patients journey from as far afield as Laurencekirk.
Angus Simpson, who travels to the city from Portlethen from treatment, said it would make a massive difference to his life.
The 65-year-old, who has one kidney which failed due to diabetes, said: "This will make a great impact for the good, literally 10 minutes along the road.
"It takes about an hour just now, I get picked up about 6.45am and the traffic is getting busy by the time I get onto the dual carriageway.
"Coming back just now, you're exhausted, it's like running a marathon, it's four or five hours in bed afterwards. It's not just that day, it's the next day too.
"I've been fighting for this since I found out it was a possibility, it's the rotary club which has been doing all the collecting."
Dialysis must take place three days every week and can last anything between two and five hours.
This means that patients' treatment can often take up to an entire day once travel is taken into account, which often has an additional negative impact on their health.
Dr Ann Humphrey, who recently retired from her role as associate specialist at ARI's dialysis unit, has spent the past five years spearheading the fundraising campaign.
She said: "It's a huge day, I'm so pleased for the patients, I've seen how much a toll it takes on them currently."
As well as the cash contributed by the community campaign, the health board will contribute about £545,000 to the project.
The unit, designed to help people from as far south as St Cyrus, across to Banchory, will be able to treat 24 patients a week if operating on a full-time basis.
It is expected to be open in the spring.