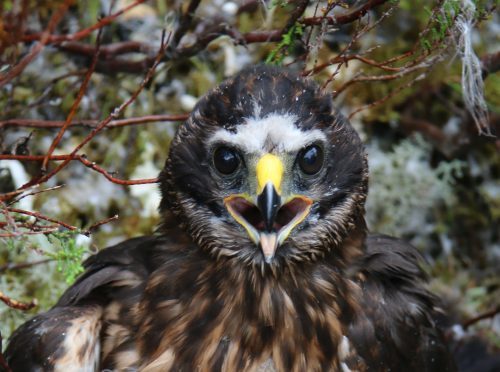 An investigation has been launched after a rare bird of prey disappeared from a Deeside estate.
RSPB Scotland has issued an appeal for information after a young hen harrier, named Calluna, was lost while on a grouse moor a few miles north of Ballater.
The female was tagged this summer while in a nest on Mar Lodge estate, near Braemar.
The bird left the area in early August, with the data showing it was gradually heading east over the moors.
However, while the tag was working perfectly, transmissions abruptly ended on August 12.
Ian Thomson, head of investigations at the charity, said: "This bird joins the lengthening list of satellite-tagged birds of prey that have disappeared, in highly suspicious circumstances, almost exclusively in areas intensively managed for grouse shooting."
Hen harriers are one of the UK's rarest raptors – a recent survey revealed the number of breeding pairs in Scotland had fallen 27% since 2004.
David Frew, operations manager for the National Trust for Scotland estate, added: "Hen harriers were persecuted on Deeside for a great many years, and we had hoped that the first successful breeding attempt on Mar Lodge Estate in 2016 would signal the start of a recovery for these magnificent birds in the area."
Meanwhile, the Scottish Gamekeepers Association (SGA)has urged anyone with information to come forward.
A spokesman said: "This is the first we have heard of this. Obviously any news like this is very disappointing. The SGA condemns raptor persecution and if any of our members are convicted of a wildlife crime, they are removed from our organisation.
"We have learned from those monitoring tags that birds can move some distance away from where they were last recorded, so it is important that, if people know anything, they alert the police immediately."
However, Scottish Land and Estates confirmed that, while it will offer whatever help it can, it does not believe the problem is related to management at the grouse moore.
A spokesman said: "Local land managers reject the inference the loss of signal from this tag is connected to grouse moor management and are now offering every assistance in searching the area where the last transmission was recorded.
"They are dismayed they were not informed earlier the tag had stopped transmitting nearly three weeks ago as this would have assisted the search."
The RSPB has asked anyone with information to contact police on 101.