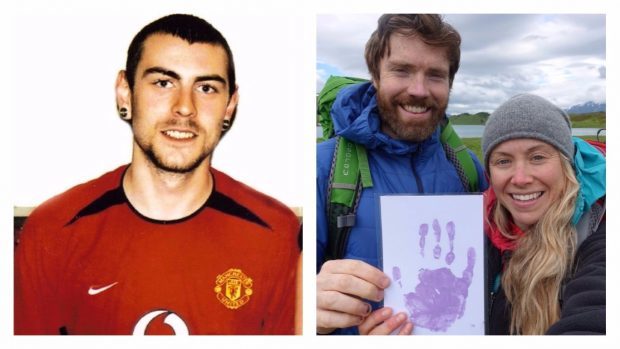 An intrepid north-east couple have honoured the memory of a tragic youngster by taking his handprint across Alaska and to the highest mountain in western Europe.
Danny Barber died of severe head injuries, aged 24, following a fight in Salford, Greater Manchester, in 2009 – a week before he was due to go backpacking.
And now, Scots couple, Luke and Hazel Robertson, have taken his handprint on a 2,000-mile trek across Alaska and to the 4,808m (15,774ft) peak of Mont Blanc.
Mr Barber's heartbroken mother, Kathy, made a copy of his handprint before his life support machine was turned off and asked explorers to fulfil his dream by taking their own copies of the handprint with them.
The trip by Luke and Hazel, both 31, from Stonehaven, is one of the most extreme so far.
Their 75-day odyssey between the northernmost and southernmost points of Alaska involved kayaking, cycling, and running as well as close encounters with bears and wolves.
They are believed to be the first to complete the trek, which began in May and finished in July this year.
Just weeks later, Mr Barber's handprint kept them company as they reached the top of Mont Blanc in the French Alps.
Writing on their Facebook page, Everyday Exploring, they said: "Just before we set off for Alaska, we were contacted by Kathy, the mum of Danny Barber, who asked us to help with a little something.
"After hearing her incredibly touching story, we didn't hesitate.
"Danny was planning to go backpacking just the week after he died and was really looking forward to setting off on his adventure.
"In the intensive care unit, his family were allowed to take his hand print before they said their final goodbyes.
"A friend of Danny's suggested that others might take him on a symbolic trip of the journeys he wanted to take – by carrying a picture of Danny's handprint on their own trips.
"Thanks to this, Danny is now travelling all over the world and we were so proud and honoured to play a small part in this.
"Danny's print was with us on every single mile of our journey across Alaska. Every paddle, peddle and step."
So far, his handprint has been to 67 countries including Argentina,Australia, Canada, Japan and Nepal, and to the South Pole, the Sahara and even up Mount Everest.
In 2016, Mr Robertson became the youngest Briton, the first Scot and the second youngest in history and one of less than 20 people in history to ski solo unsupported, unassisted to the South Pole, in Antarctica.