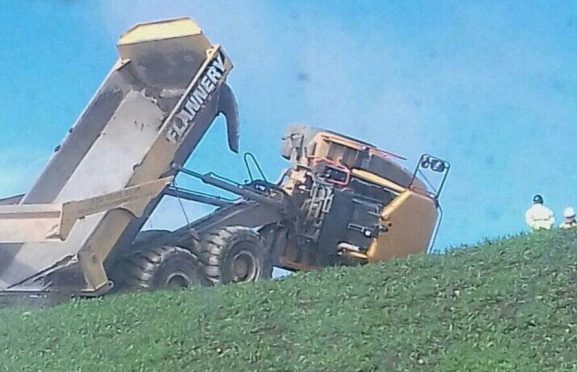 Under-pressure roads bosses have stepped up health and safety restrictions at the Aberdeen Bypass following a spate of high-profile accidents at the site.
It comes after official contractor Aberdeen Roads Limited was summoned for crunch talks after safety fears were sparked following a number of crashes and other incidents at the development.
The Press and Journal revealed earlier this year that an average of one worker a week had been injured on the £745million Aberdeen Western Peripheral Route (AWPR).
Since then, there have been continual high-profile incidents at the site with calls for an examination of practices at the site.
Keith Brown, the minister responsible for the scheme, was forced to step in and called for an urgent meeting to address the ongoing issues.
Now transport chiefs have confirmed they are taking further measures to protect workers.
Aberdeen South MP Ross Thomson has been a long-term critic of health and safety practices at the site.
He said: "I am pleased to hear that Transport Scotland is taking action to address the problems on the AWPR site.
"The deployment of additional supervisors by the contractors should help to improve safety and will hopefully allay some of the concerns of workers about practices on the site.
"We all want to see the road open as soon as possible, but it has to be done in as safe an environment as possible."
Third accident on AWPR in 10 days sparks further safety fears
In March, a contractor at the Milltimber stretch of the multimillion-pound construction site was left with cracked ribs, a liver tear and dislocated toes, after being crushed by a half-tonne pipe.
Since then there has been a long line of accidents at bypass construction sites including a two-week spell where five vehicles toppled over.
Last month, a review was ordered after drums of highly-flammable chemicals were piled up beside a public road near Aberdeen airport.
Aberdeen bypass workers raised the alarm after spotting the waterproofing materials within metres of traffic on Dyce Drive.
Union bosses have welcomed the measures but have said they were disappointed they had not been included in the talks.
John Clark, Unite's construction spokesman in the north-east, said: "It's unfortunate that the trade unions were not included at this meeting.
"But there's ongoing talks with AWPR bosses and what we are doing is upping the ante on health and safety."
Mr Clark also dismissed Transport Scotland's claims that on three separate occasions more than 1m man hours had been worked without an accident.
"They are well aware that accidents go unreported because workers are too scared to put their head above the parapet," he added.
A spokesman for Transport Scotland said: "Transport Scotland held a meeting with Aberdeen Roads Limited (ARL) earlier this month to ensure that it adheres to health and safety guidance at all times.
"The contractor, which confirmed on three separate occasions that more than 1 million hours had been worked on the site without incident, outlined the additional steps it had been taking to increase safety on site, including the employment of additional supervisors.
"Transport Scotland will continue to liaise regularly with ARL directors while construction is ongoing."