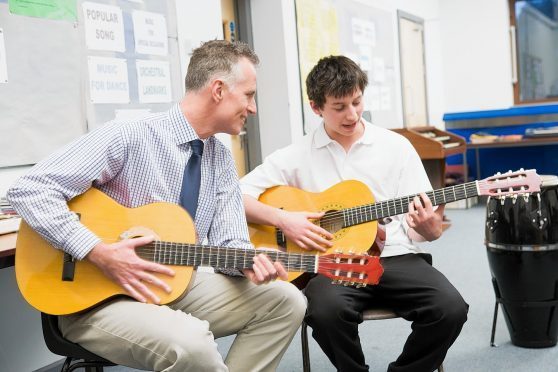 Senior Aberdeenshire councillors have tried to bury the hatchet over controversial plans to scrap visiting specialist posts in art, music and drama.
Aberdeenshire Council is in the process of amalgamating specialist teachers into schools' core staff. At the moment, the expert tutors, some of whom also teach modern languages and PE, cover a number of schools over a wide area.
Education chiefs have been working to overhaul the system since 2014, but an acrimonious row broke out, following this year's local government election when opposition politicians accused the new Conservative and Liberal Democrat administration of accelerating the policy.
The policy is wholly the responsibility of the education department, but councillors called for a report to be debated in public to clear up the controversy.
During a heated exchange at Woodhill House yesterday, education committee chairwoman Gillian Owen blasted the "tit-for-tat" row which she said has raged in the media over the summer.
She said: "There is no question this has been a political hot potato – it's been tit-for-tat and it's been very unfortunate."
She called on her fellow councillors to make council staff, rather than the press and social media, their first point of call when concerns are raised about teaching policy.
The row between administration councillors, led by Mrs Owen, and opposition members, led by Alison Evison, threatened to boil over and Mrs Evison rejected claims she had continued to criticise the policy in public.
She insisted her group was not opposed to changing the way staff were managed as long as the education of young people did not suffer.
Democratic Independent and Green councillor Martin Ford, who had not publicly commented on the move to make visiting specialists core staff until yesterday, called for a five-minute recess in the proceedings, so a compromise could be found rather than forcing a divisive vote.
After the break, Mrs Owen confirmed that both sides had agreed to request a progress report later this year, so the implementation of the policy could be overseen.
Abderdeenshire Council's education director, Maria Walker, told councillors that no change to visiting specialists would be implemented during the current academic year.