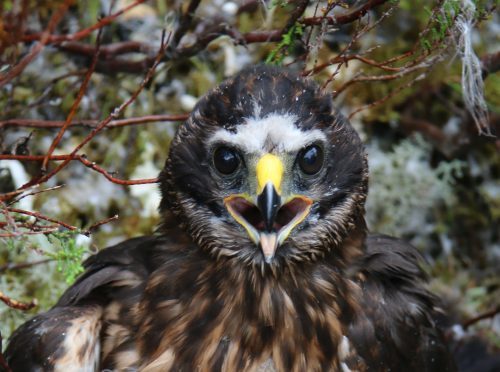 A war of words has erupted over the fate of a missing rare bird amid claims that animal-lovers have taken a "guilty until proven innocent" stance against estate owners.
The chairman of the Scottish Land and Estates organisation's north-east branch, David Fyffe, yesterday criticised the RSPB's handling of the mystery disappearance of a hen harrier.
Investigation launched after rare bird of prey disappears in Deeside
The charity believes a young female bird, named Calluna, went missing on a grouse moor north of Ballater on August 12.
The group claimed it was "highly suspicious" the hen harrier had vanished in an area where grouse shooting is common.
But Deeside estate owners responded they were "appalled" at having the finger of blame pointed at them.
And Mr Fyffe yesterday opened fire on conservation groups for "smearing shooting groups" by placing them on a "trial by media".
He also attacked the RSPB for failing to notify landowners of the situation when the bird first went missing, as per the agreed protocol.
Mr Fyffe said: "It is deeply disappointing that estates, and specifically grouse moors, are being portrayed as the cause of missing satellite-tagged hen harrier Calluna.
"Those in the Deeside area are appalled at this suggestion, no-one knows what has happened to the bird at this stage.
"If they had been alerted three weeks ago, estates would have provided resources to help in the search.
"Instead, we learn about the missing hen harrier through an RSPB press release which smears shooting estates.
"Estates are perceived as guilty until proven innocent as a result of statements from RSPB headquarters."
Mr Fyffe would not rule out the possibility the bird was deliberately killed, but argued it was also possible that its satellite tag had simply stopped working.
RSPB fired back by accusing Mr Fyffe of "shooting the messenger".
A spokesman said: "That Scottish Land and Estates seeks to obfuscate and shoot the messenger in relation to this case, rather than channeling its concern for the disappearance a very rare bird which has declined by 27% in Scotland since 2004 –  brings shame on them."