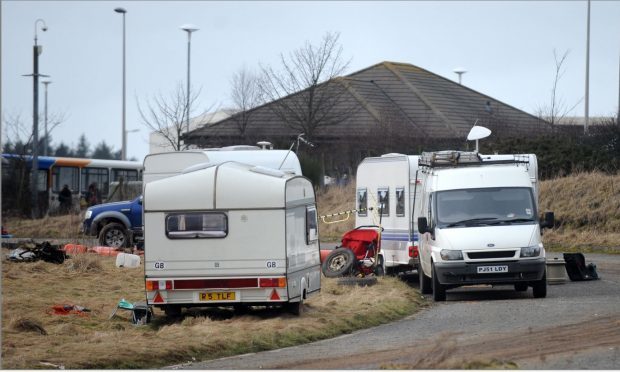 More than 60 illegal camp sites have been reported across Aberdeenshire to the local authority this year so far.
The figure, which will be discussed by councillors next week, is equal to the same number of unauthorised camps that were set up in the whole of 2016.
And of the 61 camps across the region, the majority were in Garioch and Buchan.
More than half – 36 – were on council owned or managed land.
Ally Macleod, the council's housing manager, has now said that the reputation of the authority could suffer as a result.
In her report to members of the council's traveller committee, which meets on Wednesday, she added that information will continue to be collected on the situation and has suggested that there is a need for more legal sites to be created.
Earlier this year, councillors approved creating a £230,000 stopover site near Old Deer for travellers despite concerns from locals.
Ms Macleod said: "The figures recorded show that due to the transient lifestyle of the gypsy traveller community and the lack of local authority sites that it not easy to predict the locations which may be used as unauthorised encampments, however there is a requirement for sites."
She added that legal action to move travellers on from unauthorised sites is a last resort.
"Where the land occupied is privately owned we would also offer assistance to the landowner on what action they were able to take and how to ensure future encampments did not locate if this was what landowner wanted," she said.
The report follows a planning application for a small-scale traveller site near Mintlaw.
Ellon man Gordon Stewart has lodged a bid with the council to transform farmland at Smallburn, Clola, into a three-pitch caravan site.
There would be parking spaces for up to six vehicles if approved.
A decision on the scheme is expected later this year.