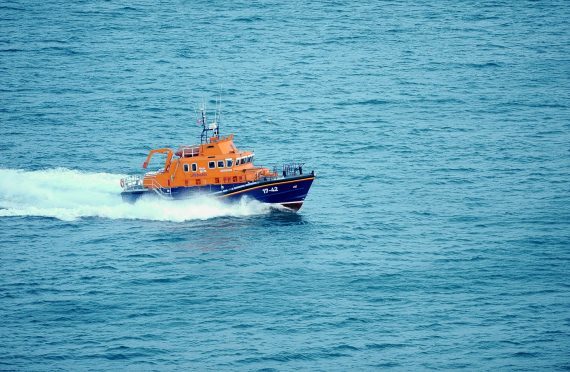 A north-east fishermen whose family donated hundreds to his local lifeboat had to rely on the help of its volunteers after his own vessel burst into flames.
Brian Buchan, 71, was out fishing with his grandson Gavin off Pennan on Saturday morning when he ran into trouble near dangerous rocks.
A fire broke out in his boat's motor causing the engine to shut down and power to fail.
But he was aided when a seven-man crew from Fraserburgh Lifeboat was called out to tow the boat to safety.
Just two weeks prior, Mr Buchan's son had handed over £350 to the RNLI which was collected at his mum's funeral.
Mr Buchan, from Pennan, said more than 400 people attended his wife Marion's funeral.
"We asked each of our three sons to suggest a charity to donate to," he said.
"My son Glen was a fisherman, though he works on the rigs now, and he picked the RNLI."
Thanking his rescuers, he added: "It could have easily been worse had the weather been bad or had we been in a different type of boat.
"Fortunately, the one we have is made to withstand a lot."
Lifeboat coxswain Victor Sutherland said: "It was quite humbling that the family thought of us at what must have been a very painful time for them having lost someone close.
"All the crew feel that it was nice for us to be able to return the favour by helping Brian."