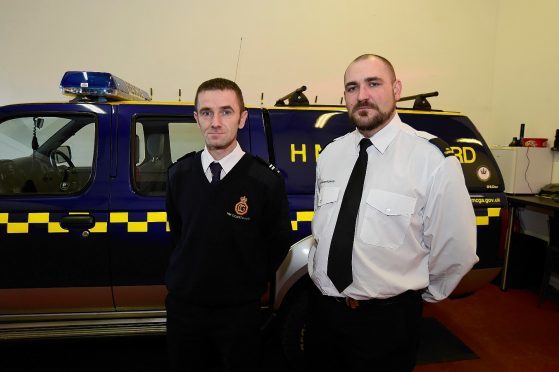 A coastguard crew has been left unable to attend emergencies after a would-be thief left a trail of blood in its van.
Emergency chiefs said lives were in more jeopardy on the water as a direct result of the "act of lunacy".
Someone broke into the HM Coastguard Fraserburgh offices at Westshore Industrial Estate some time after Thursday evening, when volunteers locked-up.
Thief stole laptop from north-east coastguard… 12 hours later big-hearted locals replaced it
Nothing was stolen but lockers were ransacked and the rear window of the team's Nissan truck was forced open.
All of the equipment and the vehicle itself will now need to be deep-cleaned, however, because the culprit injured their own arm in the attempt and dripped blood in the vehicle and on vital tools.
Police have carried out forensic tests and taken away DNA samples as they hunt down the culprit.
But the volunteer crew is now relying on the availability of its sister stations in Banff and Peterhead to attend any major incidents in the region while it waits for the van to be deep cleaned.
Last night, deputy station officer Darren Scott said: "Vandalising and stealing from a coastguard rescue vehicle, or any emergency service vehicle, is not only irresponsible but also puts lives at risk, especially on a weekend when we are often at our most busiest.
"It was noticed yesterday (Saturday), by one of the other officers.
"It would appear that whoever has done it this time has injured themselves in the process and left a trail of blood through the station. We have reported the incident to the police, who have taken samples, and they seem fairly confident they will be able to find whoever is responsible.
"Understandably, we're just gutted again that this has happened again.
"We are 'online', but this malicious act has caused us to take one of our vehicles out of service to be repaired and decontaminated, which not only has a financial implication but has inevitably caused disruption and inconvenience."
A spokesman added: "It is completely mind-numbing trying to think of reasons someone would possibly target an emergency service.
"This is just a complete act of lunacy and hopefully this time this individual is caught and dealt with appropriately."
Anyone with information on the break-in or know who the culprit may be is asked to contact police on 101.
The station previously suffered a break-in last November.
The thief on that occasion broke a lock to gain access to the group's equipment and made away with a laptop that the team relied on for real-time updates of emergencies and weather patterns.
It was made worse by the fact that the volunteers at the station had funded the machine themselves.
A massive crowdfunding appeal followed the incident and kind-hearted locals replaced the computer.